Making 3's and History
---
Yesterday, the Mount Laurel Town Council recognized the amazing achievements that Lenape's very own Girls Basketball team had this season. A season that will definitely go down in the books.
Equipped with strong, dedicated players and a inspiring coaches, it was no doubt that this year's girls basketball team would achieve a lot. But no one expected this much greatness.
They delivered success in unimaginable ways. When asked about the factors that contributed to their success, Coach Hummel was quick to state, "It was a team first attitude with these girls. They had a lot of talent but they added hard work."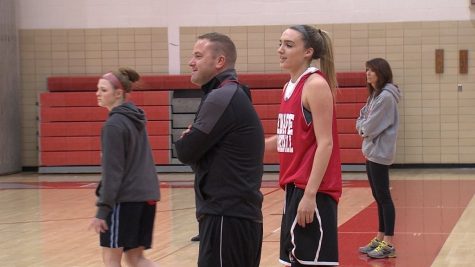 The girls made history on March 8th, 2016 when they beat Cherokee to win the title of SJ Group IV Champions. An exciting home game against a district team ignited what was only the beginning of their marvelous accomplishments. Afterwards came Semi-Finals, which the Lenape Girls Basketball team nearly swept away with a 47-31 win, leading them into the Group IV State Championship game, a first for Lenape Girls Basketball. 
Making the Pine Belt Arena burst with excitement, the Lady Indians continued to taste overwhelming victory with a Group IV State Champion title after beating the Golden Knights 50-35 in a historic game, marking it as Lenape Girls' Basketball first State Championship win.  When asked about the feelings behind making history, Captain Maddie Sims ('16) stated, "It felt like one of the greatest feelings ever, like a dream come true, especially for my senior season. I was so overwhelmed I almost started crying and because I was just so proud of my team. It's also great to know that I made an impact like that on the school."
"
I was just so proud of my team. It's also great to know that I made an impact like that on the school. "
— Maddie Sims
Coach Hummel, the lead coach who aided in their success, shared the same selfless enthusiasm about winning the State Championship, "It felt awesome to win. But I was really just happy for the girls." Even after being awarded the SJ Girls' Hoops Coach of the Year Award, Coach Hummel remained humble by placing the emphasis of the personal award on the team when he stated, "Yeah it was pretty cool but those things come when the team is successful and after the hard work we put in together it was nice to be recognized."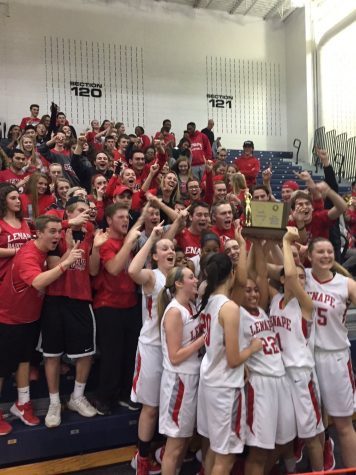 Lenape Girls Basketball went on to make history again when they won yet another game, their 31st, making them the first Burlington County girls team to win 31 games in a single season. It seemed like the ball kept rolling in their favor, or rather dribbling. However, their final game, a ToC Semi-Final against Saint John Vianney, unfortunately, did not end in the victory that they had hoped, but it concluded a truly astounding season worthy of reflection and endless praise.
"I'm going to miss it," Maddie Sims said, "I'm going to miss the team, I'm going to miss the coaches, and I'm even going to miss the practices but I'm just so proud of what we did this year."
---
Leave a Comment