Spring Musical 2021: The 25th Annual Putnam County Spelling Bee
Every year, a group of Lenape students work hard to present students, staff, family, and friends a performance they'll never forget. This year, that beloved tradition was allowed to take place: the Spring Musical. 
This year's musical was the 25th Annual Putnam County Spelling Bee. By reading the name of the musical, the plot is pretty self-explanatory: A group of students at the Putnam Valley Middle School compete in the annual spelling bee.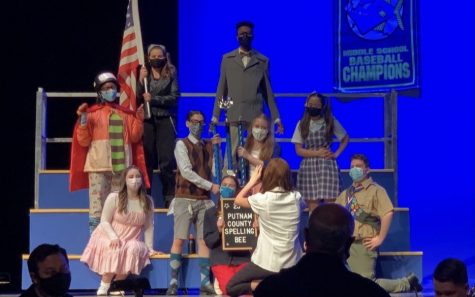 The musical may revolve around the spelling bee theme, but there's much more to it. The characters all have problems they struggle with, which is revealed as the musical progresses. The addition of the character's quandaries not only thickens the plot, but also adds aspects that fellow high school students can relate to.
Of course, since this is a musical, not only did the cast members have to act and say their lines, they also had to sing and dance (talk about triple threats!). One way the songs were used was to explain the backstory of some characters… the plot thickens.
The characters all had something going on in their lives, much like high school students. The struggles the musical tackled were so varied that there was at least one thing every audience member could relate to. One character had to deal with the pressure of being the best at everything, and another had to handle puberty and the embarrassment associated with it. Other, more extreme, issues occurred as well, such as one character who had an absent mother, and a father mad at the mother, who took his anger out on his daughter.
On a more positive note, a very special ingredient of this musical was audience participation. Not only did cast members compete in the spelling bee, but members from the audience did as well! Yes, watching the cast members perform is always exciting, but watching members from the audience try to spell out words adds an extra level of humor. It also keeps the audience on their toes. 
I asked multiple people for their opinions on this musical and received nothing but great feedback. A freshman, Bella Cao, thought "it was interesting how we got to know the characters better throughout the spelling bee." She also thought the sentences that came with the words the characters had to spell were hilarious, and that "the vocals were very well done, especially since they were all wearing masks." Her favorite scene was when Logainne's mom poured soda on the ground to disrupt William's "magic foot" and his foot kept sticking to it!
Another freshman, Bria Morgan, rates this musical a 5/5. She thought it was really impressive how the cast members were able to pull off this musical through COVID. She also thought "everyone in this musical was crazy talented". Her favorite scene was when one of the characters had a conversation with Jesus about expectations. 
This musical was not just enjoyable for musical-lovers. Justin Hermack, an eighth-grader at Harrington Middle School, is not a fan of musicals but still enjoyed this one. He thought the show was funny, lighthearted, entertaining, and he liked the audience participation aspect. His favorite scene, which seems to be a fan-favorite, was the same as Bria's.

I also interviewed a few of the musical's cast members for the inside scoop of what it's like to be on stage. Ava Davis, who played Carly Grubinierre, one of Logainne's moms, loved every second she got on stage. She says acting with a new group of people takes some getting used to, but the whole cast was very welcoming and supportive, and she had the most fun ever with her new, amazing, and talented friends. She also says the audience from both nights was very funny and interactive which made the show funnier and smoother. Ava's favorite scene to perform was "Woe is Me", where she was a featured singer, had lines, and got to work with some of "the most amazing people in the cast". Overall, she says the show was a blast and can't wait to do the musical again next year.
Emma Nasto, who played Logainne Schwartzandgrubinierre (try to say that ten times fast), felt it was nice to get back into the swing of performing. She always gets a little stage fright before, but she went on stage and it went really well. Her favorite scenes were the opening number and "I Speak Six Languages". She really enjoyed it when she gave a speech and the whole audience erupted in laughter, which she felt was really rewarding. Emma also asks that people support the Lenape Arts in the future!
Rachel Lawrence, who played Leaf Coneybear, didn't get a lot of stage fright and was super excited to perform with her friends after not being able to for a long time. Her favorite scene was "I'm not that smart" and she had a lot of fun interacting with the other actors on stage, as well as the audience. Rachel also says "Big congrats to the cast for doing so well, a thank you to the directors for making the show even better, and well wishes for our seniors, Jackson Hummel and Alyssa Eustance."
I also asked the cast members what it was like to perform while wearing a mask. Rachel and Emma both felt that acting with a mask was a little strange, but both made the best out of the experience. Rachel believes that the masks improved her abilities to project her voice and facial acting/expressions. Emma thinks acting with masks was weird, but for the best. She says "acting is normally very internal, but with masks, you have to shift most of your acting to your eyes."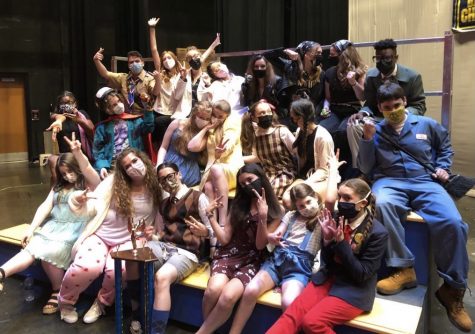 Contrary to Rachel and Emma, Ava says that performing and speaking while wearing a mask was not weird at all because she's used to wearing it every day. However, she says that "singing and dancing was a bit challenging at times." Ava says that after one of the songs, everyone needed a breathing break from all of the running and dancing on stage. 
Every year, the musical cast members pull off an unforgettable performance. With a chaotic year like this, it was amazing to see how the cast and crew were able to adapt and give an incredible performance during a pandemic. So, stay tuned for next year's musical, and if it's anything like this one, I know it'll be extraordinary!
Leave a Comment