Happy Birthday, Mary Jane!
Mary Jane Mullen, a beloved figure within the Lenape community, is celebrating her 70th birthday this Saturday! Her name is one spoken in revere and respect from both student and staff. Her altruism and optimism is not uncounted for; she tries her best to help people who come to her with anything they might need. Quite recently, I myself experienced the unconditional, selfless attitude with which Mary Jane worked. Having left my chemistry textbook on the late bus, I was deeply concerned for the safety of the book. I constantly visited her to check to see if it had come in. Not once did she complain about the frequency in which I would come and ask. Any other person would have quickly become exasperated with my perpetual check-ins at the office. However, Mary Jane only looked to help! In honor of her birthday and all that she has done for this school, I sat down with her for a quick interview.
How long have you been here at Lenape?
"I've been here at this school for 52 years now."
What are your thoughts and feelings on what you do?
"I love my job, I like what I'm doing. I like the kids, I like the people, and I'm gonna stay here as long as I can."
What do you think of Lenape?
"I think Lenape is a wonderful school, good teachers and kids. There's nothing bad to say about this school, only good things."
What is your favorite thing to do at Lenape?
"My favorite thing to do is seeing the kids, giving out candy, and helping people out."
What is the weirdest thing that has happened to you in your 52 years here at this school?
"Nothing horrible, really. I don't think anything weird has ever happened to me… Maybe something did happen but I'm getting too old to remember!
You're famous for your candy. Why do you leave candy out all the time?
"I don't think [kids] love me; I think they only like my candy. I always have chocolate and I have an extra stash in my drawer in case I run out. The teachers love it too!"
Lenape staff and students also have something to say for Mary Jane:
Madison Gilfert – "Mary Jane is always a friendly face to brighten your day. No matter what's going on, her cheerful demeanor never fails.
Mr. Spitz – "Mary Jane is the heart and soul of Lenape High school."
Michael Scheipe – "I love Mary Jane, she's so nice! Plus I love her candy."
Mrs. Jones – "Mary Jane is wonderful."
Austin Montgomery – "[Mary Jane] is a lovely lady that is always here for everybody."
Mrs. Baliban – "Mary Jane is one of the nicest people I've met in my whole life. She's been very kind to me in my entire life here with Lenape High school, and tell her she's a great cat person like I am!"
Shamrez Haider – "Mary Jane is a jewel in this school."
Mr. Hendricks – "She's the sweetest person that works in Lenape Regional High school, and my favorite person to visit with."
We hope the best for Mary Jane this year and all of the following years to come! Hope you have a phenomenal birthday!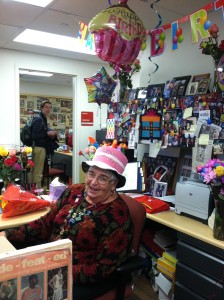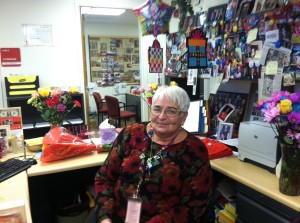 Leave a Comment