Staff Spotlight: Mrs. Stansbury
Jody Stansbury, better known to many students as Stans, is a health, physical education, and sports medicine teacher. She also is the National Honor Society advisor, the assistant Girl's tennis coach, and the advisor of the Wellness club. Most importantly, Stans is a compassionate, kind member of the Lenape faculty who is always willing to lend a hand. I sat down to talk to Lenape's newly crowned Teacher of the Year and it was evident that every ounce of her acclaim is well deserved.
How long have you worked at Lenape?
"I've worked at Lenape since the fall of 1999."
What is your favorite part of working at Lenape?
"I think my favorite part is just the people; we have great staff here and great kids. The school, the administration is just willing to make it as easy as possible to get the things you need to teach, and they're very supportive."
You recently shaved your head during Pride Day in November: what motivated you?
"Mr. Laddey came to me and told me that Ebo wasn't doing very well and his parents really needed money to go back and forth to Germany and for treatments. I thought, why not; it's a small sacrifice to help the family. Ebo is one of our NHS kids and I thought, you know what, this is a big service, and I'm going to do it."
How do you feel about being teacher of the year?
"I'm very humbled, very honored, very surprised, very excited, and it's just a huge honor.  I tell my students too, always try to do the best that you can. Just thinking of Ebo, you know, he would've wanted to be here, doing his best and he can't, so, we need to get up every morning and come to school and make a difference and do our best."
Teacher of the year is a huge honor! How will you celebrate?
" Just, really, every day trying to do my best, trying to live up to teacher of the year! I already got my flowers and balloons and just every day I wake up excited that I've made an impact on the kids, on the school, that I'm doing my job, that I have a purpose. I think inside, that's a lot of celebration for me. Oh let me add, my tenth period lunch people, before break, got me this beautiful big cake that said 'Teacher of the Year'. Ms. Geissler engaged everybody into chipping in and they did celebrate me then and I still have some cake left in my freezer!"
How does your involvement in clubs and with the tennis team affect your experience at Lenape?
"I think, that's what makes your experience. You get to know the kids on a different level than just in the classroom. You would interact with them, make them better at tennis, for instance. NHS is so gratifying, to help different people in the community and help the kids achieve goals and let them see what community service is all about. I think that getting involved in school activities is a number one.  I think the kids in class respect you more, I think it's just—That's what being a high school teacher is all about, not just in the classroom, but how you are outside the classroom. So it plays a huge role."
You always have so much school spirit: Why do you think it is so important to have pride in your school?
"I think it's important because it's something to believe in, I mean, the school is your family. You should have pride in your family, have pride in your school, and then you'll do things for that school—you treat it with respect. [Pride] just makes you a better person, gives you character."
If you could give one word of advice to Lenape students, what would you tell them?
"One word of advice, what would it be…I would say to do your best, don't sell yourself short, make a difference."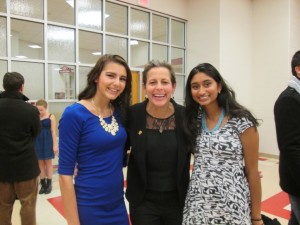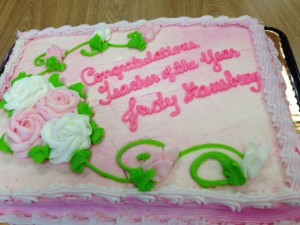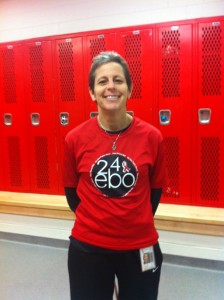 Leave a Comment