We will always remember Ebo Eberling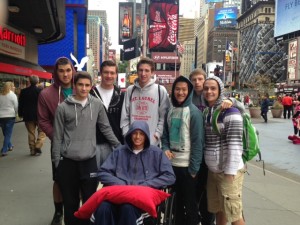 For most of my high school career, I remember a chatty, shaggy-haired teenager with a confident swing in his step—even during the early morning. I remember an unrelenting, broad smile and an outgoing attitude.
    I remember Ebo. Not "the kid with cancer." Just Ebo.
    Eric "Ebo" Eberling was diagnosed with bone cancer during his sophomore year at Lenape High School. Despite the challenges he faced, despite the trials he encountered, his bright outlook and bright smile never faltered. As a member of the class of 2014, he was even voted as having the "Best Smile" of the senior class.
    Ebo was a constant presence in the Lenape community. We wore T-shirts and wristbands in honor of Ebo—both those knew Ebo personally and those who did not. "Stay Strong Ebo" became a revered praise, a repeated chant, a statement of hope and unity that was spread throughout the surrounding community.
    At the pep rally this past year, students and staff alike shaved their heads in support of Ebo, fundraising money for his cause. I remember hundreds of students collectively chanting, "Ebo, Ebo, Ebo!" Students of all different shapes and sizes, of different interests and communities, formed one collective voice as we cheered our classmate on.
    We became a battalion against cancer; we were a force to be reckoned with. Ebo's fight transformed even us into fighters. Because we supported Ebo with all our efforts.
    A member of the National Honor Society and a coach of the Team Comcast 00 ice hockey team, Ebo never stopped living life to its fullest. That he became a coach in ice hockey when he could no longer participate in as a player was a testament to his determined character.
    To us, he was a fighter. He was a hero. And he was an inspiration.
    And on Christmas Day last year, this inspiration passed away surrounded by loved ones. He was 17.
At Ebo's viewing, hundreds of people gathered to celebrate his life. Stories of his extraordinary life were lovingly shared; we listened to songs and music performed by friends. Later that night, at Lenape High School, we united to release balloons with messages for Ebo into the starry night sky.
"Don't you worry, don't you worry, child. See heaven's got a plan for you," Ebo's friend Patrick Fei sang at one point during Ebo's service. And it sure does.
    It's easy to say that Ebo will never be forgotten. Because he brought us—individuals of unique shapes, sizes, interests—all together.
    Ebo truly lived more in his seventeen years than most of us could hope to ever live in our entire lives. In John Green's The Fault in Our Stars, his principal characters are living with cancer. One of them, in a bout of introspective thought, reflects that "some infinities are bigger than other infinities."
    And Eric "Ebo" Eberling's infinity—his life—was the biggest of all.
Leave a Comment