Certamen: The Final Destination
Certamen: The Final Destination
Lenape Students Dominate Certamen at Princeton University
The battle of the minds.  On March 18th, Princeton University held an annual Certamen to celebrate the language of Latin.  Schools from all over New Jersey competed in this Latin competition.
Lenape sent out their Latin I, Latin II, and Accelerated Latin teams to compete and to, once again, place amongst the top three in South Jersey.
The Latin I team, consisting of Saransh Chopra (Captain), Smriti Nair, Michael Higgins, Alexis Cao, and Ruth Demree, placed 1st in South Jersey and will be moving on to the state competition against the 1st place team of North and Central Jersey.
"The team worked really well together, so I think we definitely earned our place in South Jersey," states Saransh Chopra.
The freshman, Michael Higgins, expressed that Certamen "was mentally stimulating" and, overall, a great experience. "Going to Princeton made the experience even better."
Even though the Latin II team did not place in the top three, Tara Liu (Captain), Amy Wu, Elijah Hampton, Matt Hartsough, and Maithri Goud, put forth tremendous effort against some of the toughest teams in South Jersey.
Tara Liu '16, stated, "I loved Certamen! It was just an exhillarating experience. Even though the competition was neck-to-neck, that was what made it fun!"
Lenape's Advanced Latin team, consisting of Andre Angelia (Captain), Janani Perera, Jacob Demree, John Belardo, and Zach Silver, placed second in South Jersey.
Janani Perera '14 claimed, "I have been participating in Certamen since my sophmore year, and it has always been very exciting."
The rules of Certamen were simple: the reader would read the question and the point would be awarded to whomever provided the quickest, yet accurate, answer.
Within three fast-paced rounds, the goal was to accumulate as many points as possible and to end with the highest score. The team with the most accumulated points at the end of the third round took first place.  It was a game of anticipation, knowledge, and confidence.
Ms. Hecht, the Latin I, III, and Advanced Placement teacher and the chaperone of this trip, expressed that " It was both fun and a great experience for the kids to see all the other schools and students that take Latin and to be confident in their abilities."
Lenape's Latin I team will be continuing on to states at Clearview High School on April 5th, against PACTA (Central Jersey) and Montclair High School (North Jersey).  Good luck to those students in their upcoming competition! Lenape Pride!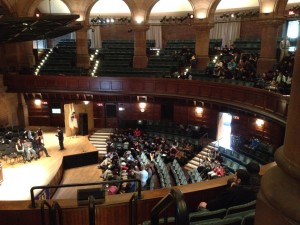 Leave a Comment