Relay for Life 2014
On the afternoon of Friday, May 30th, many Lenape students headed home for a weekend just like any other. However, this was not the case for those participating in the Relay for Life of Mount Laurel. With sleeping bags and permission slips in hand, several students returned to the football field for an emotional and inspirational night.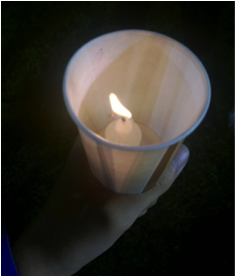 Relay for Life is an annual event organized by the American Cancer Society which unites communities all over the country to raise funds for the fight against cancer. The American Cancer Society, which sports the title of "official sponsor of birthdays", uses these funds to provide support and aid to millions of cancer fighters every year. They provide a shoulder to lean on, financial support, and even transportation for those who need it. The American Cancer Society truly makes a difference in many lives, and that is why we participate in Relay for Life.
This year's Mount Laurel Relay for Life event started with an opening ceremony at 6:30pm on Friday, and concluded at 7:00am on Saturday. During this time, at least one member of each of the 26 teams walked the track, demonstrating that "cancer never sleeps." Many other activities were also held. Immediately after the opening ceremony came a very inspirational event: the survivor lap, followed by the caregiver lap and team lap around the track. This gave participants the opportunity to feel a sense of community, and the knowledge that they were not alone in their fight. Another highlight of the night was the Relay for Life Pageant, where participating teams competed for "Relay Queen."
While whipped cream pie contests and themed laps are fun, there are more serious aspects of the event, such as the Luminaria Ceremony. At the beginning of the event, luminaries are sold to honor those who are fighting, and to remember those who have fought. These luminaries contain a candle, and are placed around the track. During this ceremony, every participant receives a candle to hold and protect as their light, in combination with that of the luminaries, lights the path around the track with all other lights off. This is a meaningful time to reflect,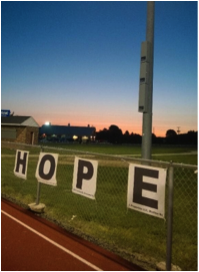 and is an important part of Relay for Life events.
These activities would not have been possible without all the volunteers, teams, sponsors, and donations. These teams included the Lenape Community Service Club, and a few others which were led by Lenape students, such as The Track Pack. All of this hard work and dedication ultimately paid off, as this year's event had more than 300 participants and raised more than $53,212.24 for the American Cancer Society! These funds were raised through many fundraisers. Many teams held bake sales or other fundraisers in front of the Boscov's at the Moorestown Mall on multiple occasions. My team raised more than $200 from these fundraisers alone! The hours of hard work everybody put into this event, doing even the boring things such as paperwork and meetings, really paid off the night of the relay.
While the actual event may be over, you can still help! Donations are always accepted online at relayforlife.org, where you can donate directly to the Mount Laurel Relay for Life. Also, a "restaurants for relay" raffle is still going on. Tickets are only $5, and you can contact me during school for more information. We hope to see year at next year's relay!
Photos by: Amy Fredrickson
Leave a Comment