Six Flags: Physics Day 2014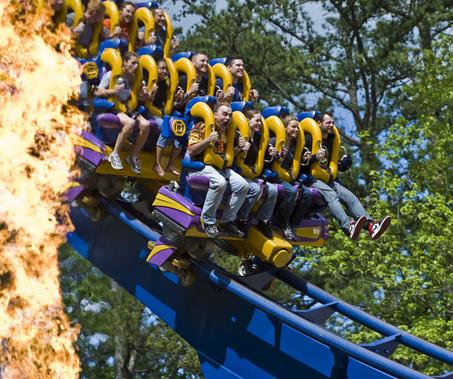 When first walking into Six Flags Great Adventure for the first time, it's hard not to get overwhelmed. The abundance of people begin at the entrance never disperses. What is it then, that makes Six Flags such a hot spot? Whether for school trips, a summer excursion, or anything in between, kids and adults alike come to Six Flags for its attractions. Physics classes of Lenape High School were among the crowd this past week.
Arriving even before opening time, the students were still subject to wait in lines. The first "line" was more of a mass group as everyone who'd arrived early waited patiently—as patient as a large crowd of teens can be–for the park to be officially opened. When the clock struck 10:30, groups fled, hoping to get to the rides before anyone else. As you can imagine, it was chaos. My group chose to skip the rush.
We took our time, opting to spend the day off from school in a relaxing way rather than in the madness that is the Six Flags rush. We strolled down Main Street, themed as an 18th century town. What was interesting to me was how it was split up. Instead of a clump of rides and restaurants, it was clever to section the attractions up into pieces. These pieces included Fantasy Forest, Adventure Alley, Adventure Seaport, Movie Town, Lakefront, Frontier Adventures, Plaza del Carnaval, Golden Kingdom, and Boardwalk. Each section was equipped with rides to fit the theme as well as restaurants. For example, the Plaza del Carnaval, a Spanish culture themed area, hosted El Toro, the notorious wooden roller coaster as well as several Mexican restaurants.
This park is also notorious for hosting the world's tallest rollercoaster, Kingda Ka. Unfortunately the day we went, the ride was notavailable due to construction. Construction for a freefall named "Zumanjaro" is currently in the works near Kingda Ka. What is appealing about Six Flags is that it is always making renovations in order to improve. Instead of just settling for the tallest rollercoaster, it pushes the limits and will soon complete the world's tallest freefall. The constant improvements add to the total effect of the park. It would not be complete without any of its parts and additions, which only help to expand the ever growing phenomena that is Six Flags.
I had to admit, I was not sure what all the fuss was about, but after spending a day at the park, I came to realize that there is a reason that Six Flags attracts so much madness. Everyone wants a little piece of the adventure that it offers. Whether it's because of the rides, the food, the games, or simply the company you keep there, it's safe to say that a day at Six Flags is well worth it.
Leave a Comment