Lenape Girls Tennis: History in the Making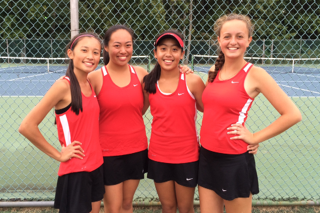 With one player lost from the starting lineup, tryouts had altered the order and possibly the team's success this season. Nonetheless, this didn't stop the girls from winning the Burlington County Open Tournament for the first time in Lenape Girls Tennis history.
Not only did the entire varsity team advance to the semifinals, but doubles teams Gabby Shvartsman/Alexis Cao and Serena Lam/Cailyn Chow also won the finals at Moorestown High School, receiving individual doubles titles. The first doubles team, Gabby Shvartsman and Alexis Cao won in straight sets, 7-5, 7-5, against Seneca, as the second doubles team, Cailyn Chow and Serena Lam, took on Moorestown High School with a 6-4, 6-2 win. Furthermore, the team secured their overall win, which was followed closely by Moorestown Friends High School, who fell short by only one point behind the Lady Indians.
"
I couldn't be any prouder.
— Coach Carnevale
When asked to describe how it felt to win BC Open, second doubles player Serena Lam explained that "it was just a great, great feeling to take down Moorestown in the finals." Her partner, Cailyn Chow, added, "we just played really great. We were offensive, and just took it point-by-point. The other team didn't know what hit them."
Other varsity members, including Captain Lauren Gershman, Shannon McCarthy, and Smriti Nair achieved individual feat by advancing to the semifinals and contributing their every win towards the team. Coach Carnevale, the Lenape Girls Varsity Tennis coach expressed, "I couldn't be any prouder."
Leave a Comment