The Best of Me… For the Hopeless Romantic
Disclaimer: We haven't read the book, so this article is based only on the movie.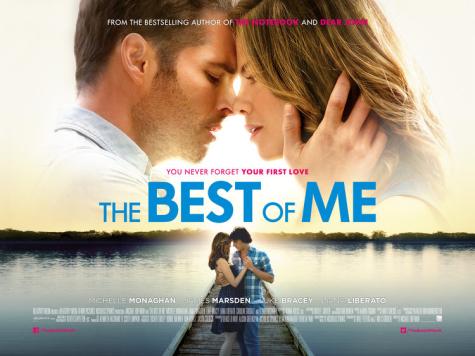 Michelle Xu's Opinion:
If you haven't watched it yet, The Best of Me is a new chick flick based on a Nicholas Sparks novel that came out on the 17th of October.
Since I heard it was a really sad movie, I expected myself to be dragged half-sobbing out of the theater, yet when we got out at the end, I wasn't that upset. In fact, I didn't even shed a single tear.
The movie itself, with its beautiful imagery and great actors, wasn't too shabby. The real problem lies within the cliches. True yet forbidden love, two people destined to be together, looking up at the stars, dancing to old records, jumping in lakes, and kissing in the rain. Rich, ambitious, and pretty girl falls for socially awkward, smart, and poor boy.
Poor boy says "No, no, I don't deserve you", ends up leaving the girl and hurting her. 20 years later, he comes back to her with regrets and sadness and they both make it up with an "Ooh, I never stopped loving you" and a kiss. Gah, so cliche. While the twist near the end of the movie was quite a shock, the ending itself was so predictable that it left me with an unsatisfied feeling.
Now I do enjoy hopelessly romantic movies now and then, but I guess The Best of Me wasn't the best of the ones I've seen. I'd rate this movie a 7/10. However, if you like fluffy movies with powerful storytelling, gorgeous settings and scenes, this is the movie for you! Onto the positives!
Sierra Pisiechko's Opinion:
The movie The Best of Me (Rated PG 13) starring James Marsden, Liana Liberato, Luke Bracey, and Michelle Monaghan came out October 17, 2014. The movie has some ironic and shocking moments for the viewers watching the film.
I certainly recommend the students at Lenape to watch this film. The film shows the depth of love and its impact on those willing to take a risk.  When you fall for someone do you ever truly stop loving them? Also, this film captures how people should not give up in life whether it be in love or anything else. This film touches the hearts of its viewers. Nicholas Sparks has written a great novel that has transformed into an amazing movie.
A freshman at Lenape saw the movie and said, "I loved the movie; however, it was so sad at the end. I was literally bawling my eyes out sobbing." Another student at Lenape said, "It really touched my heart and I was just so shocked by the ending." To experience how the movie will take you on an emotional journey go watch The Best of Me, in theaters now. Don't miss out on this heartfelt and touching movie!
"
"I was literally bawling my eyes out sobbing.""
— Anonymous freshman
Leave a Comment