Flashback Friday: Out and About at the Lenape vs. Trenton Central Game
There's something about those Friday night lights that is so symbolic of  a community coming together.
On September 26, at Lenape's home game against Trenton Central, Smoke Signal photographer, Nicole Pacitti and I went around with a camera and a recorder, eager to meet the different people in the crowd. I met freshman, seniors, alumni, parents,  younger siblings, and teachers. Here are some of the  questions I asked and answers I found: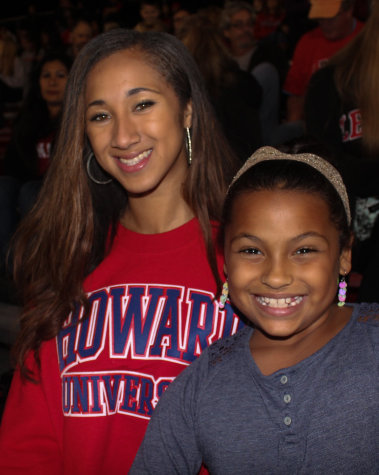 What is your favorite part of being an alumni and coming to a Lenape football game?
  "My favorite part of coming back to Lenape as alumni is seeing everyone and my sister cheers, so it's always to come back and see where it all started."- Chelsea Boatright '13 (left)
   You're going to come to Lenape when you're older. How does coming to games now make you feel?
   "I just experience what it looks like now. I get to see my sister out there, and I just look up to her, she's just like the star cheerleader. " Ileana Swann (right), sister of Jade Swann ('15)
What's your favorite part about seeing your brothers play on the field?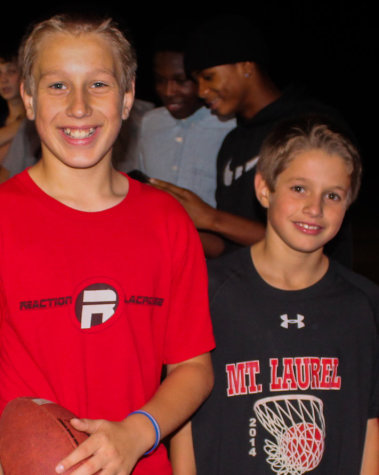 "Having hard work and desire pay off.'"- Sean Kennedy (right), brother of Jimmy Kennedy ('15)
"I give him more respect when he's on the field because inside the house he's not the lovable brother you want. But here I show respect for him and just show love out there."- Brady Long (left), brother of Bryce Long ('16)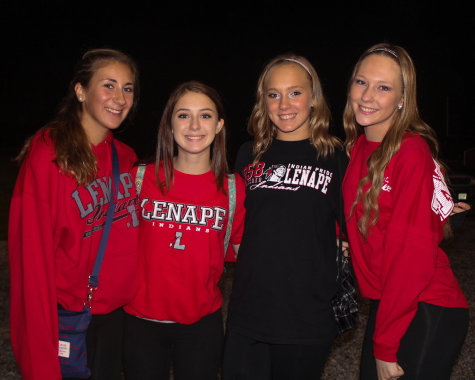 What do you like most about Lenape football games?
"It brings us all together"- Aliza Band '18 (left)
 "And the crowd, we all stick together"- Ashley Thompson '18 (second from left)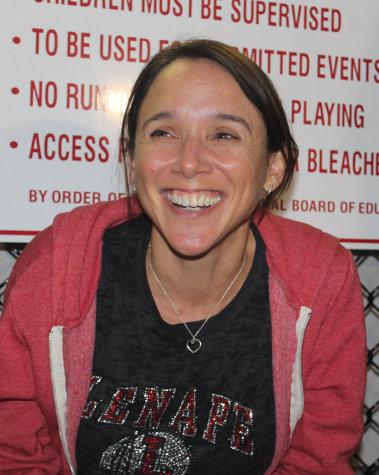 What is it like watching the Lenape football games
as both a mother of a player on the field and as a teacher?
"It makes me proud to see all of them. I know a lot of these
guys from  school now, but also from when they were little,
 from Fleetwood. I kind of feel like I'm a mom to a lot of them.
I'm proud of them all."- Mrs. Gaffney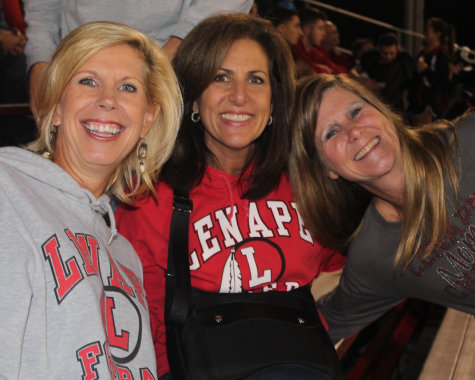 What's the best part of being a parent of a cheerleader or football player on the field?
"This is her senior year so its great to watch her through all the four years she's been here at Lenape" -Mrs. DeKrafft (left) speaking about her daughter, Makena DeKrafft('15)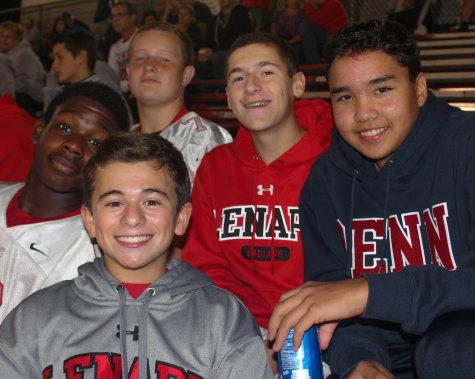 As a player on the Lenape freshman team, how does it make you feel to see the varsity guys out there?
"It gets me excited that, hopefully I'll be on JV someday, and play my heart out."- Clive Larmond '18 (middle left)
What's the best part about being a senior at a Lenape football game?
"Being around all our friends, being around people, getting hype, leading the chants, and watching all the seniors out there doing their best."-Chris Nishi '15 (top right)
What do you like most about being in the student section at Lenape football games?
"Ummm, we actually don't go here"- Katie Rickards and Hailey Russell (both Seneca '16)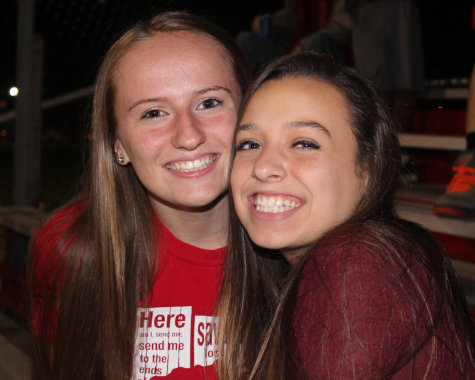 Where do you go?
Seneca
So what's the difference between a Seneca football game and a Lenape football game?
"You guys win."-Hailey Russell (right)
*
And that Friday night, Lenape won by a landslide of 44-0. All pictures taken at this game are available on our Facebook page: www.facebook.com/LenapeSmokeSignal.
Tonight, come out and support Lenape against Cherokee! We're the NBC10 High School Blitz game of the week, so don't be shy to show your Lenape Pride!
Leave a Comment