Spread the Love With Food Poisoning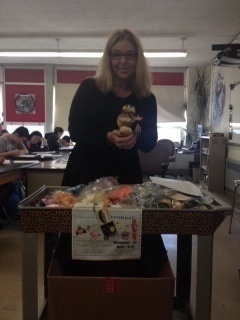 The holidays are just around the corner! The time has come to give, give, and give! Who wouldn't want to receive a giant microbe? Show your love and appreciation for that special someone in your life by giving them Kissing Disease!
Go to room A207 TODAY, contact Mrs. DeSantis, or see any Science League Officer, if you want to own one of these cute, plush, cuddly critters!
This is not an opportunity you want to miss out on! These cuties are selling out fast and you do not want to be that person without their very own graduated brain cell. The small keychains are being sold for $5 each and the large dolls are being sold for $10.
There's more to this offer: a smorgasbord of microbes to choose from!!! Mrs. DeSantis is currently selling the following critters: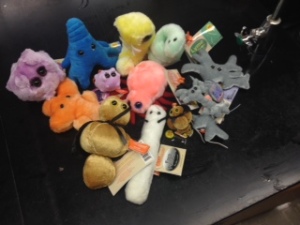 –MRSA: This adorable little bugger comes with it's very own cape!
–Kissing Disease: Perfect for your significant other!
–Food Poisoning: A great present right before that big holiday dinner!
–Athlete's Foot: Show your coach appreciation by presenting him with a raging case of athlete's foot!
–Brain Cell: It turns out that money can buy smarts, and for $5 or $10, you can proudly boast!
–Graduated Brain Cell: For the Class of 2015–let it hang with your tassel!
–Bed Bug: Don't worry, he doesn't bite!
–Book Worm: This cuddly creature is the perfect study buddy while you hit the books!      
–Amoeba: This unicellular organism will wiggle until you giggle!
–Lyme Disease: Time keeps ticking away, so live life to the fullest and party hard with this fella!
***Ebola: shipments are coming soon–only available in doll size***
These fuzzy critters are perfect for anyone working in, or considering going into healthcare! It will make any occasion merrier!

What's more is that 10% of the proceeds will go towards the Ebola Crisis Fund, helping out victims and their families.
DON'T HESITATE AND BUY ONE TODAY!
Leave a Comment