2014 Forest Hill Drives Album Review: A Drive Through J. Cole's Rise to Success
These days rap albums are expected to be doused in loud beats and references to drugs and money. But 2014 Forest Hills Drive breaks these normalities with utter grace. J. Cole stands as the mastermind behind this album's graceful beauty. What makes this album beautiful? The slow beats crafted perfectly, the hypnotic melodies, and the lyrics dripping honest stories about Cole's past.
  Unlike his last a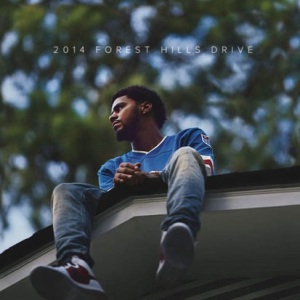 lbum, Born Sinner, 2014 Forest Hills Drive is not spitting out singles in hopes that they'll reach Number One on mainstream radio lists. Instead the songs are rooted with sentiment which call for slower melodies. And it works. Even for a rap album. The haunting major chords just seem to get stuck in your head.
  2014 Forest Hills Drive carries its perfect songs with Biggie-esque beats, slow in time yet unforgettably effective. "January 28th", a song narrating Cole's unique rise to fame, is drenched in these types of beats allowing the audience to focus in on the words.Easy beats loop throughout "03 Adolescence" as Cole outlines a life-impacting move from his small town in North Carolina to the daunting throb of New York City. Cole understands his story should be delivered carefully and does so in creating these precisely paced songs.
"
This is my canvas, I'ma paint it how I want it "
— J. Cole
  Lyrically, Cole delves into his life and the lessons he has learned. He completely shatters the latest trend in rap music which involves writing songs about clubbing, drinking excessively, and taking drugs. Cole pours out something that is not heard much these days: the truth. A prominent theme of the album is the way Cole grew up in a small town to later claw his way out and through a big city until he was clenching his dreams. "You made a genius and I/ Ain't gon' take it for granted…I ain't gon' take what they handed/ Nah I'm gon' take what they owe me and show you that I can fly" Cole sings to his mother in "03' Adolescence" a song that depicts his time in New York City where he was tempted to make destructive decisions, but focused on his undeniable talent. In "Apparently" Cole raps " This is my canvas/ I'ma paint it how I want it", implying the possibilities of his desires, despite where he comes from.
  A dozen more lines are golden but these speak for the album in its entirety.
  Overall, the groundbreaking album allows J. Cole to teach the idea that dreams should be caught, not just chased — even if you live in a small town where they might seem impossible.
Leave a Comment