Hero Club Bowling Fundraiser Serves Community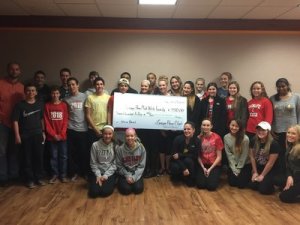 Friends, family and children of all ages gathered Sunday, November 23 for the Hero Club's autumn bowling fundraiser. Laurel Lanes hosted the event, which lasted from 12:30PM to 3:30PM. Patrons enjoyed bowling and food in support of an excellent cause.
This year's bowling fundraiser aimed to raise money for holiday gifts to be donated to children in need. $750 in total was raised.
"
I bowled fifty gutter balls, but I enjoyed the experience regardless.
— Dom Rivera
Dom Rivera, a Lenape junior, was very enthusiastic about the fundraiser, describing the event as "fantastic." He went on to say "I bowled fifty gutter balls, but I enjoyed the experience regardless."
Members of the Hero Club plan to purchase and deliver toys for needy families in the near future with the funds gathered.
The Hero Club was created at Lenape High School in the 2013-2014 school year. So far, it has been successful in granting a number of "wishes" in our local community, most notably raising money last year during the club's "Bowl for Ebo" event for former Lenape student Eric "Ebo" Eberling.
Hero Club itself is a community service club that focuses their resources towards local needs, which are found by using the website https://heronetwork.com/. The club strives to tie technology into community service.
If you know of anyone in need, heronetwork.com can give them the ability to receive help from a nationwide community of people who want to help others.
On the more local side, Hero Club grants a "card wish" every time it meets. A "card wish" is when a person does not want a monetary donation, but cards for support. The entire club pitches in each time it meets, creating dozens of cards to show a member of the community support.
The Hero Club does two large fundraisers each year, one in the Fall and one in Spring. Be sure to look out for the spring fundraiser at that time if you are interested in helping the club and its efforts.
Leave a Comment