Lenape High Schools Presents: The Great Gatsby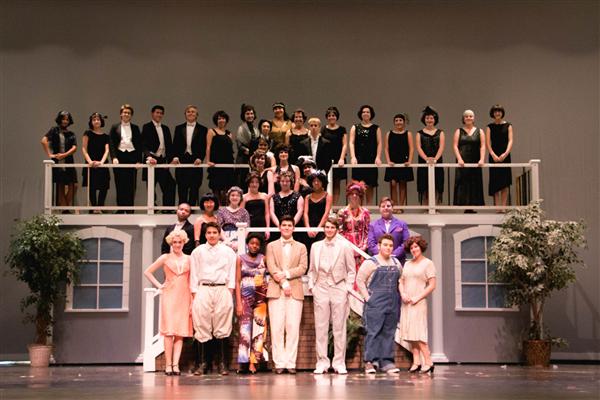 Lenape High School's production of The Great Gatsby turned out to be quite a success this year. Opening night was Wednesday, November 19th and there were two more performances on the following Thursday and Saturday.
Fellow Smoke Signal staff Megha Bharadwaj ('17) and I went to see the show on Saturday, and I must say, we were not disappointed. All of the actors were phenomenal, especially since there was a brand new cast this year. Most of the main actors from last year's play had graduated, giving new people an opportunity to be in the spotlight but living up to the precedents set before them.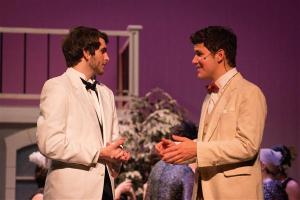 The cast & the crew did not fail to capture the true essence of this classic novel and "bear [the audience] back ceaselessly into the past". All of the props and costumes accurately set the scene of the popular book, taking us back in time to the roaring 1920s.
Erin Powell ('16) was cast as the lead lady, Daisy Buchanan starring alongside Jason Friedman ('15) who played her long lost love interest Jay Gatsby, Dylan Hubbs ('17) who played her husband Tom Buchanan, Imaninia Burton ('18) who played her eccentric golfer friend Jordan Baker, and the narrator of the whole story Tucker Moses-Hanson ('15) who played Nick Carraway.
Claudia Englehardt ('17), who played one of the flapper girls & partygoers, agreed that the production was "a wonderful adaptation of both the book and the movie". This subtle blend of the two was one of the qualities of the play that appealed to many of the viewers as it allowed a deeper connection to the play!
Jess Toci ('17), another one of the flapper girls, told us that she thoroughly enjoyed getting the opportunity to be apart of Lenape's Fall Play. "It was a great experience to meet new people and also become better friends with people I already knew. Everyone was so nice and welcoming!"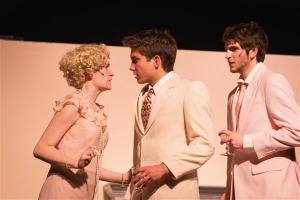 After catching up with some of the cast after the show, we were able to talk to the head director of the play, Mr. Bausch.
He was extremely proud of the cast for all their hard work over the past few months and their maturity for "being able to have fun with the plot and characters but taking every element of the production seriously".
Mr. Bausch continued, saying, "I'm blessed to have been apart of the of the production. We have an amazing theater program here at Lenape".
Mr.Van Den Arend the assistant director of the play and a Latin teacher here at Lenape also felt as if the play was a great experience for all the teachers and students involved and that all their hard work really paid off in the end.
If you missed the Fall Play be sure to check out the Spring Musical 2015, Shrek!
Leave a Comment