Lenape Girls Track Races To A Win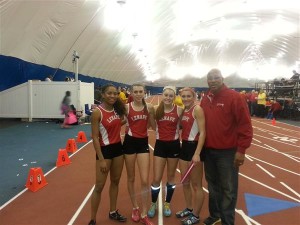 Lenape Girl's Track is riding high! The Sprint Medley Team recently set a new meet and school record at a time of 4:08.21. This team set the bar earning the number one spot in New Jersey and number three in the whole country. The members of this team are Carly Pettipaw (Senior '15), Sam Maynes (Senior '15), Megan Quimby (Sophomore '17), and Jasmine Staten (Sophomore '17). The 4×400 relay team won as well. They set a time of 4:01.68, which is also placed number 1 in the state. We had the opportunity to talk to Carly Pettipaw, a senior who is a part of both teams, to get a look inside her lifestyle as a runner.
Q: How long have you been running?
A: I have been running for about four years competitively, other than that I ran a little bit in middle school, but that was more recreational. I started running because I love the thrill of competing in something where its up to me to do my best.
Q: How long have you been apart of Lenape's track team?
A: This year marks my 4th year as member of the track here at Lenape
Q: What does it feel like to have earned such a prestigious title?
A: It is a great feeling to be able to hold such a title it proves that our hard work pays off.
Q: Will you be pursuing running at college?
A: I will be continuing my running career in college at the University of Delaware.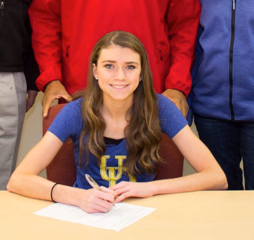 Q: How hard do you have to work to achieve something like this?
A: To achieve this I have always had to work hard in practice everyday. It requires a lot of commitment to keep yourself in shape.
Q: What were the reactions from your coaches and other teammates?
A: When we won the SMR, our coaches were ecstatic. We, as teammates were exhausted from the race but we were extremely excited about the final result.
Q: As a runner what keeps you motivated to keep on bettering yourself and becoming faster?
A: The thing that keeps me motivated throughout the state. I know that if I want to place at the sectional & state meets I need to work hard to get faster & stronger
Q: While competing, what is your mindset?
A: While racing I generally do no try not to focus on what the outcome will be in order to not psych myself out. I just focus on staying in the front of the pack and then kicking at the end up my race
We wish Carly and the rest of the team best of luck in the rest of their track season. After winning several state titles the girls' track team has a very high probability of racing their way into the New Balance Nationals.
Leave a Comment