Lenape Students and Staff Read She Is Not Invisible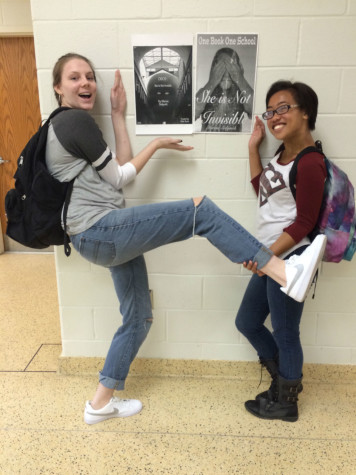 This past summer, the students and staff at Lenape read the fiction novel She Is Not Invisible as a part of our One Book One School Program.
She Is Not Invisible by Marcus Sedgwick tells the story of a young, blind girl named Laureth. Laureth, along with her younger brother, travels to New York from England in search of her missing father. Once she arrives in New York, she realizes that finding her father will not be as easy as she initially thought.
Lenape students had very mixed opinions on the novel. I personally felt the book was rather slow at first, but I thought the climax was very interesting! Laureth was incredibly brave!
However, a student who has chosen to remain anonymous was quoted as saying "It wasn't very organized. There just wasn't much flow. [Laureth] was thinking in one sentence and her brother would be reading to her in the next.".
Sahil Trivedi ('17) said, "It was the biggest deus ex machina ever". He felt the ending was not exciting at all.
Sophomore Kyle Patel said the portions of the book that were from Laureth's dad's journal were a bit slow, but he enjoyed reading the voice of a blind girl. "The fact that she was blind made the whole storyline different. It was cool!"
In September, there were a few events around school celebrating the novel. For instance, Lenape students and staff recently wore polka dots to raise awareness for the blind who use Braille (coded raise dots) to read. Keep an eye out for more OBOS related events and activities and tell us your thoughts on the novel in the comments below!
Leave a Comment