Heartbreak on the Diamond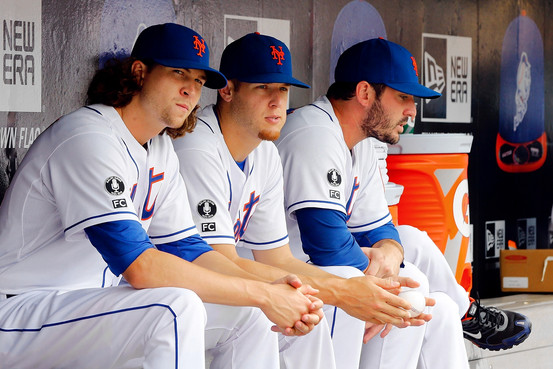 Here in the Philadelphia area, most baseball lovers are Phillies fans, and often poke fun at rival teams. But this year, we had to admit that the New York Mets had an amazing season (or at least much better than the Phillies). After making it to this year's World Series, they were unfortunately not able to win the trophy up against the Kansas City Royals. Although they were not the champions, this team still deserves a lot of praise.
The Mets didn't have any higher expectations than usual at the beginning of the season. They hadn't had a winning season in six years, and not much had changed in that time. But while the Phillies suffered the loss of two key players in the middle of their season, Utley and Rollins, the Mets gained two players. Yoenis Cespedes and Kelly Johnson were added to the roster and turned the team around.
Once the team gained these players, they began getting hits like crazy. In fact, at the Mets-Phillies game I attended over the summer, I couldn't help joining in with the excitement of the Mets fans. They hit 8 home runs, making Mets history for the most in one game. This dream team hit their way into the World Series, and gave New Yorkers hopes of winning it all.
The Kansas City Royals hosted the Mets for the first two games of the World Series, winning both. The teams then headed back up to CitiField in New York, hoping to catch up to the Royals, but to no avail. They were able to win one game, but lost two more, costing them the series and forcing them to watch the Royals kiss the trophies on their home turf. So what happened?
The 2015 World series was full of errors and missed opportunities on the Mets' part. This may have been caused by cockiness; after such a great season, they may have believed that they could win the series without a problem. But the Royals never got cocky, and in the end were the better team. This was a huge disappointment to Mets fans, after watching them play so great all season only to lose it all in five games.
Some fans are keeping an optimistic view after the devastating series.  Lenape student Gabby Silio ("18) said "'I'm proud of the way [the Mets] played all year, and is just sad that they ended up playing against a team as good as the Royals in the series." Although I'm not a huge fan of the Mets, after seeing what they did this year, I personally believe that they could win it all next year.
Leave a Comment