Lenape Girls Tennis Aces The Season!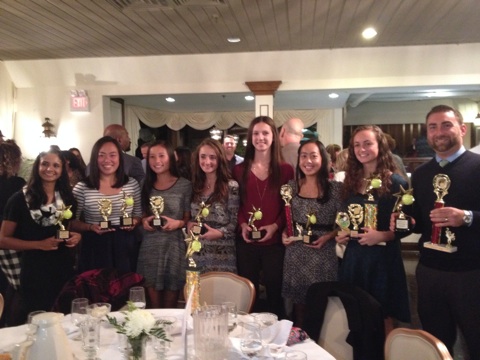 On Sunday November 15th, the Lenape Girls Tennis Team attended the South Jersey Tennis Coaches Association Banquet. The Banquet was held at Auletto's Caterers, and commended South Jersey players for their exceptional performances during the 2015 Girls Tennis Season.
Lenape's top 7 players, Shannon McCarthy, Smriti Nair, Cailyn Chow, Gabby Shvartsman, Alexis Cao, Meaghan Corej, and Serena Lam, all received awards of distinction. Shannon McCarthy, Smriti Nair, Serena Lam, Meaghan Corej, Alexis Cao, and Gabby Shvartsman each earned a spot on the Group IV All-Star Team. Captains Gabby Shvartsman, Cailyn Chow, and Serena Lam were also recognized for their leadership during the season. Furthermore, Gabby Shvartsman, along with her partner Alexis Cao, received honors for her exemplary performance in tournaments.
For the third year in a row, they made it to the Group IV finals against Cherry Hill East, only to lose in a tight 3-2 match. The girls finished the season strong with a 16-3 record.  
Leave a Comment