New SAT v.s. Old SAT
American high school students have one thing in common: the SATs. Whether you live in Wyoming or New Jersey, on January 23, 2016, the College Board will be updating its current standardized test and will affect nearly 2 million students, nationally. The chances it will affect you? Pretty high.
As most of you know, the current SAT is scaled on a 2400-point system with three subjects: critical reading, writing, and math. The writing section has both multiple choice and a required essay that is twenty-five minutes long. The good news about this version is that calculators are permitted throughout the entire math section, but the bad news is that guessing is practically useless. With  ¼ point deduction for incorrect answers, and no penalty for blank answers, you'll probably want to play it safe.  The whole test takes a lengthy three hours and forty-five minutes, and after a couple of weeks, the results are released.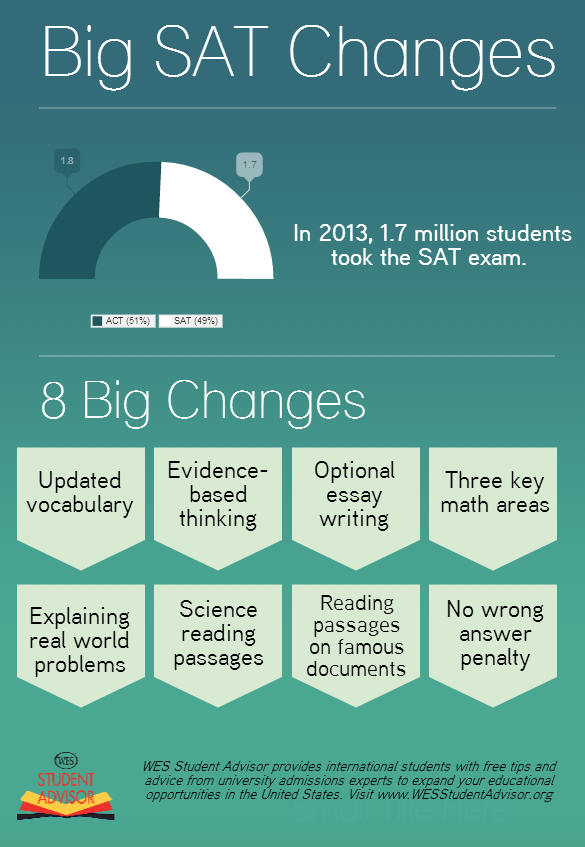 So what about the new and "improved" version? The 2016 SAT will return to the 2005 scaling system, out of 1600 points, with the same subjects, just modified. The essay will now be optional, at an additional cost, but will take fifty minutes. The good news? The critical reading won't have you memorizing the words "obfuscate" and "maelstrom" the night before the test. Instead, difficult, yet common, words will appear on the test, like "synthesis" and "empirical". The bad news, is that the math section will be harder, to put it bluntly. It will include more data-analysis and higher level math concepts. This redesigned test will take three hours, plus an extra fifty minutes, including the optional essay.
The changes being made in the upcoming spring of 2016 are endless, and most of my opinions are pretty one-sided, so it really all lies on personal preference. Do you like writing essays? Is math and vocabulary your strong or weak point? While I personally feel that "if it ain't broke, don't change it", I have heard several varying responses about this change. 
"

I'm glad I get to choose which test I want to take, like the rest of the class of 2017. I think the new version might be easier, but I'll probably want to take the old one just in case"

— Ariana DiFillipo ('17)
Leave a Comment