Who Said Politics Isn't An Art?
I'm sure a good many of you are familiar with Banksy, an English graffiti artist who integrates many controversial topics involving politics and current world happenings into his art as well as an interesting sense of humor. In addition to simple spray painting, which he is most known for, Banksy has built sculptures and directed several movies.
Due to the fact that the street artist has become so popular and loved, should he paint your building, your property value would actually go up! Rather counter intuitive, huh? Of course, he didn't start out the way he is today;everyone starts small. Banksy began as a classic, freehand graffiti artist in the early 1990s, inspired by others around him and heavily laden with anti-capitalism and anti-war themes. His work was featured in the Bristol underground scene along with other artists', but he finally became famous when Bristol photographer Steve Lazarides began selling his work. Lizards later became his agent. By the year 2000, Banksy was painting stenciled art, rather than free-handed. The difference between the two styles being that free-handed is just painting without any guidelines and working with just a few cans of paint. Stenciled art is done by using large pieces of thick paper or cardboard to shape a design. This style is usually much neater and, as a result, has the ability to convey the artist's message easily.
To give a little opinion here, my favorite pieces by Banksy are the ones without too much of a meaning, but are just cute or funny. Call me unappreciative, but I think there is enough political controversy in our world without it being framed on a wall.
In closing, I would like to mention the book form of Banksy's collection: Wall and Piece, of which I have a copy myself. Unfortunately, my copy has captions only in Romanian, but the art itself hasn't been altered.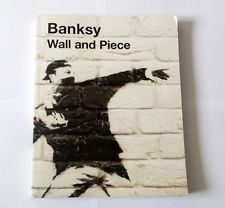 Leave a Comment