Science Rules!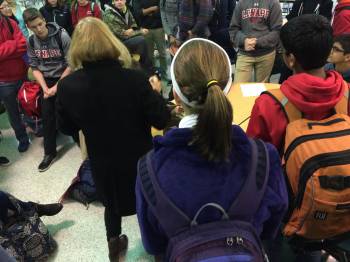 This past Thursday, Lenape's Science League dominated–once again–at its meet at Seneca, earning 6 first place titles and 2 second place titles. These Varsity Nerds fought hard against top notch academic teams including Northern Burlington, Burlington Township, Delran, Shawnee, and Cherokee.
First Place Teams:
Chemistry 1– Finlay Buchanan-Jacobs
Chemistry 2– Bannu Kasimahanthi
Physics 2– Mike Rosenbaum
Biology 1– Jimmy Lee
Biology 2– Jackson Bauer
Environmental Science– Laura Ciapetta
Second Place Teams:
Earth Science– Patricia Thomas
Physics 1– Saransh Chopra
Congrats to all who participated!!
Leave a Comment