History Has Its Eyes On Hamilton
The smash hit musical that's making showtunes and history cool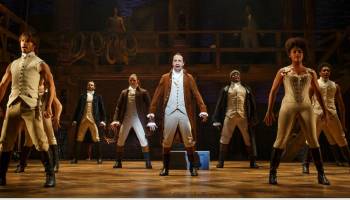 Just a year ago, if you searched the name "Hamilton" on the internet, you would see images of the same portrait over and over again and countless articles and essays on a founding father who sounds vaguely familiar. Now, you are bound to see an album with over 40 songs on iTunes, pictures of a Broadway performance, and ticket sales (if you're lucky enough to get any). No one would ever think that this phenomenon could be caused by a Broadway show. However, this is definitely not your average musical. It consists of an extraordinary cast made up of mostly minority races, the most exciting history lesson you will ever sit through, and did I mention the intense rap battles?
All of this is the work of Lin Manuel-Miranda, who composed, wrote, and is starring in Hamilton as, you guessed it, Alexander Hamilton. Growing up in the Latino neighborhood of Inwood in Northern Manhattan, Miranda was exposed to hip hop at an early age. He first gained success after creating Bring It On: The Musical and In the Heights, both containing his signature modern sound. While on vacation, the playwright read a biography about Alexander Hamilton, and was immediately fascinated by his story. Miranda thought hip hop was the obvious style of music for the founding fathers. As he said in an interview with CBS News, "the hip hop narrative is writing your way out of your circumstances". The revolutionary war may seem boring after learning about it all through school, but your teachers never told you any of the drama that went on in both the founding fathers' personal lives and political careers.
The musical opens with a song titled, simply, "Alexander Hamilton", a biography of his upbringing as a "bastard, orphan, son of a whore" in the West Indies. The story begins when he arrives in New York City, where talks of revolution are heating up. Hamilton is soon introduced to all of the founding fathers, who eventually get involved in the drama as well, especially Aaron Burr. Hamilton collaborates with them on everything from the war itself to a national financial plan, as he was George Washington's treasurer. As dramatic as his career was, his family life was even more so. It involved love triangles, cheating scandals, and betrayal. All of this illustrates the price you must pay to be successful , make a name for yourself,and leave a legacy. This musical has inspired millions to do the same, especially those who are in the working class, as Hamilton once was.
It is a bit ironic that the musical is the story of a successful politician who was once only a poor immigrant, and yet Hamilton tickets are only available to the upper class. Although most Broadway shows are expensive, Hamilton tickets sell for hundreds of dollars.  This is after you are able to find a show that is not sold out, which can be months away. However, Lin Manuel-Miranda has began a gospel of wealth, and is supplying tickets to those who will truly benefit from his masterpiece. He created a program that gives public high school students from New York City's low-income neighborhoods access to the show by lowering ticket prices a substantial amount. These students are learning about the forefathers in history class and relate to Alexander Hamilton just as Miranda does. In an NBC news interview he revealed, "I fell in love [with theatre] the same way kids are falling in love with Hamilton now, which was listening to cast albums over and over, imagining my own version in my mind". It shows that Miranda is just as inspiring as his show, and deserves all the success that is coming his way.
Hamilton has become a cultural phenomenon, and has accomplished things Broadway musicals never have before. For one thing, it has made history interesting by modernizing it and telling the entire story, even the parts of it that may show our country's flaws. It has also been one of the first shows to have a soundtrack entirely composed of pop and hip hop. It reached #4 on the iTunes charts and #12 on the Billboard 200 chart. The cast also earned a well-deserved Grammy after giving a live television performance from their Broadway stage. Hamilton has been seen by countless celebrities, including First Lady Michelle Obama while filming the "Broadway at the White House" special for TLC. Needless to say, the musical has gotten quite a few Tony nominations, 16 to be exact, making it the most Tony nominated show ever. Perhaps the most comical accomplishment of Hamilton has been keeping Alexander Hamilton "the ten dollar founding father". Instead of Harriet Tubman replacing him on the $10 bill, she is set to replace Andrew Jackson on the $20. There is no doubt that Hamilton will go down in history.
Hamilton has had quite a run in its first year on Broadway, as it has revolutionized the theatre district. Although it may be extremely difficult to purchase tickets for a performance of the show, the album is only $19.99 on iTunes. The show is told in song, so you will understand the story just from listening to the soundtrack. It truly proves the power of music. Sadly, the man who created all of this, Lin Manuel-Miranda, is set to leave the show this summer. But just like the real Alexander Hamilton, he has left his legacy.
Leave a Comment