Dodge Poetry Festival 2016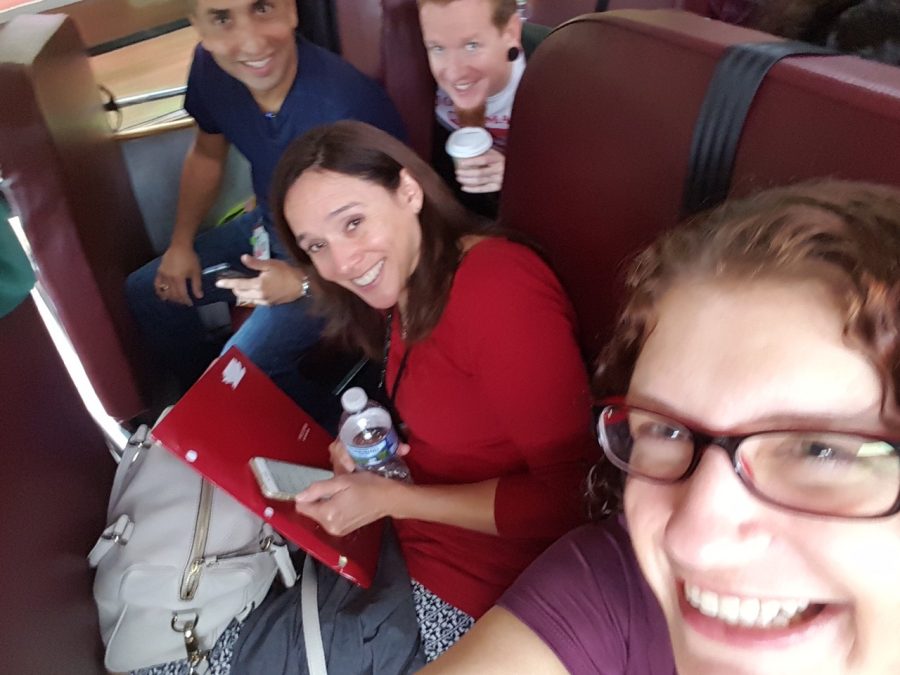 Instead of participating in this year's Pride Day, students in Creative Writing and Poetry classes (or anyone else with an interest) took a trip to the Dodge Poetry Festival in Newark, New Jersey. Friday, October 21st was Free Student Day. At the Festival, we listened to famous poets recite and speak about their poems and the writing processes they use.
The seminars my group attended had unique vibes and were helpful with different aspects of writing.
The first two readings we attended featured the poets Billy Collins, Rickey Laurentiis, Martin Espada, Honoree Fanonne Jeffers, and Gary Snider. They were in the impressive Prudential Hall that is in the New Jersey Performing Arts Center. The five floors of seating were all packed and it was amazing to be in a room with thousands of young writers.
Although this was such an amazing and awe inspiring environment, I found it somewhat hard to concentrate on the poets' words as it was not as personal. They were all very interesting, It was just difficult to process everything that was said when they were talking to so many people at once. One of the poets in particular, Jeffers, was extremely emotional in her words and I could tell, but it was  harder to actually feel the same emotions as her.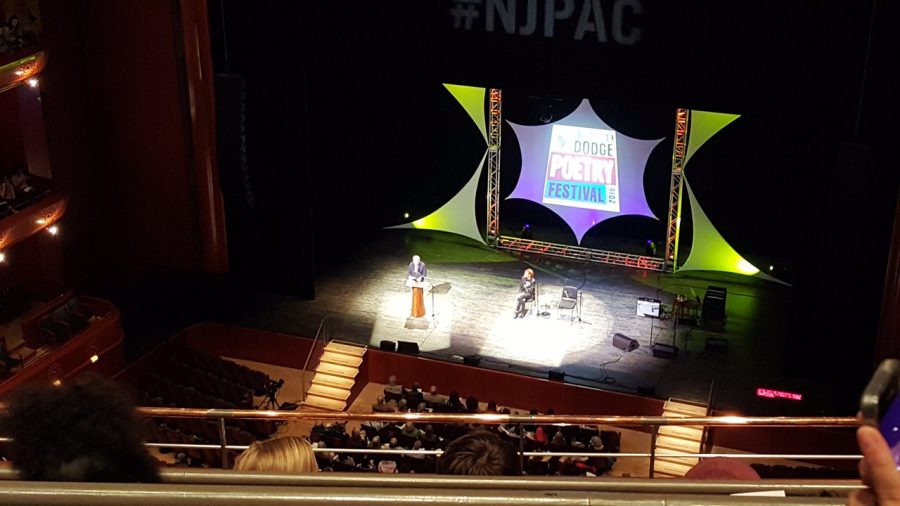 One disappointment was what Gary Snider chose to read. As it was an event on the oral history and development of poetry, he mainly recounted history and other poets' work. He never read one of his own poems. Everyone was really excited to hear him speak, but people were leaving the hall disappointed during his time.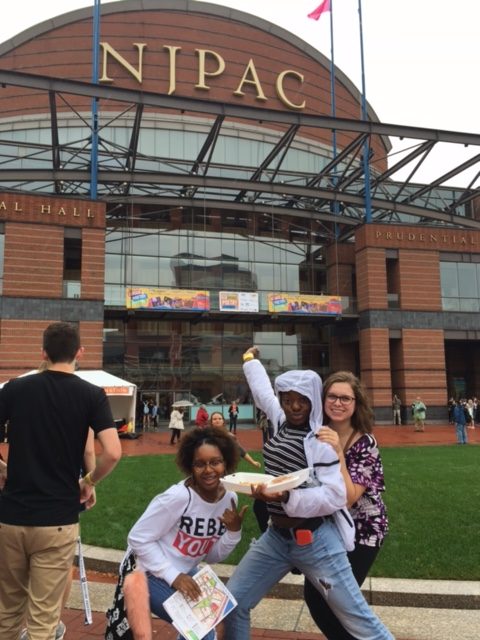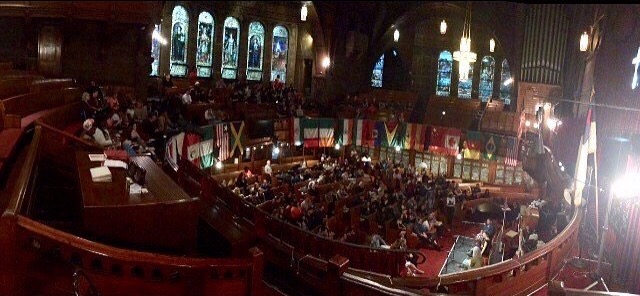 After those two readings, my group ventured to the First Preddie Baptist Memorial Church to hear more poets. We chose this event because Mahogany L. Brown was going to read there and a few people in my group were fans. Ellen Hagan and Brenda Hillman also spoke.
I had never read anything from either of these accomplished women before, but I was absolutely blown away by the things they said. Brown spoke with so much feeling about the problems she has faced with racism and sexism – it was SO MOVING. Hagan followed Brown's words with more on women's issues that were so powerful, as well as some about unconventional love. Hillman took us all by surprise with short poems from different angles of life, including from a bird (note: not birds eye, but with actual chirping).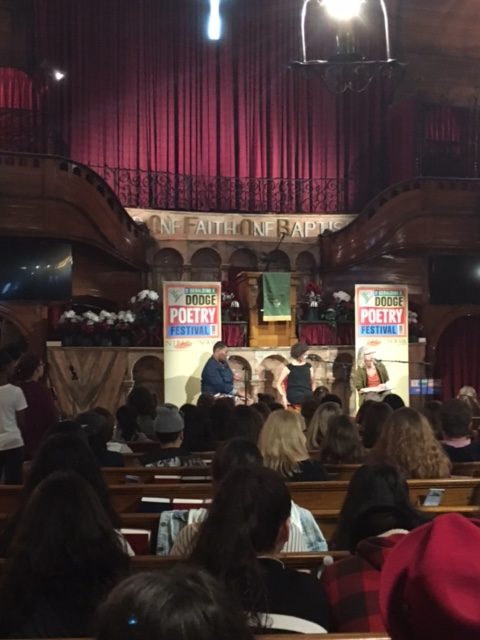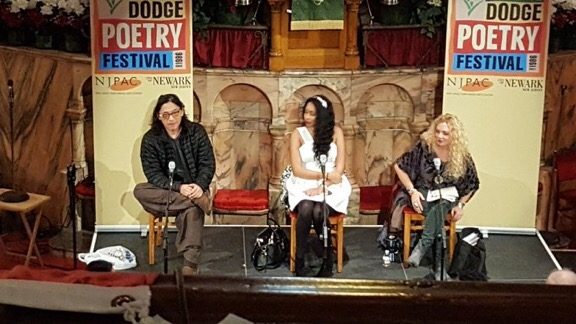 The church was much smaller, holding maybe 75 people, and I felt so much more connected to the audience as well as the speakers. The Q and A we had felt so much more personal as well, that after we had just been blessed by their beautiful words, they could now answer our own questions about the emotional and physical sides of writing and poetry.
The only other negative to the trip was that Dodge censored a couple poets. The reason for censorship was unclear, but two of the poets one of our Lenape groups went to hear were restricted from reading their poems. Although it may have been for good reason, it was off putting to see at a poetry festival. Poetry is about freedom of expression and poets often walk the line of controversy. It was strange that Dodge stopped well known poets from sharing.
Overall, the Dodge Poetry Festival was an amazing experience and I would definitely recommend it for any interested students. There is another, slightly different, event in the spring and more to come in future years.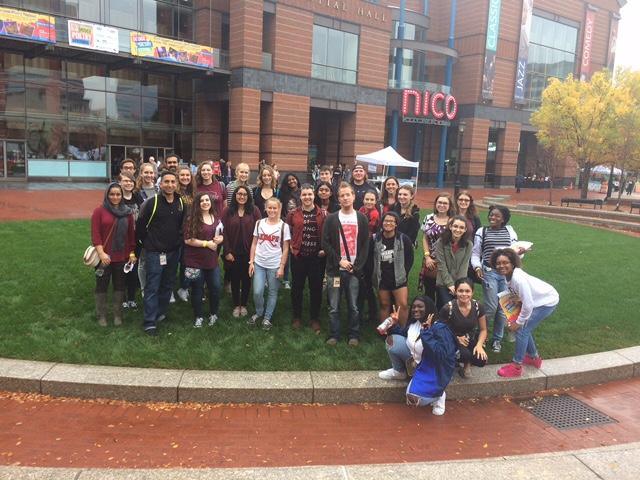 Leave a Comment