Senior Spotlight: Megha Bharadwaj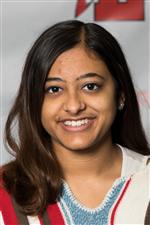 High school can be hard to navigate for some. This does not apply to Megha Bharadwaj. She has worked incredibly hard during her four years at Lenape and accomplished so much! Megha won Varsity Best Speaker for Lenape last winter. She also won several academic awards and was recently awarded Student of the Month. A photograph of Megha was also featured in a Buzzfeed article this month!
I had the opportunity to sit down with Megha a few days ago and learn about how she manages to do so much.
What clubs and activities have you been a part of at Lenape?
Debate, Science League, Chem Club, Student Council, Community Service, Women of the World, and Smoke Signal to name a few.
You've accomplished a lot in four years. How does it feel?
It's rewarding to see my hard work pay off. I've always tried to give my best to whatever I've done from academics to extracurricular activities. The payoff at the end of the journey is nice.
What do you feel is your greatest accomplishment?
Being able to balance academics with all my clubs and my social life. Finding the right fit between these things was a challenge but it was great to be able to figure out the right combination.
What are your future plans?
I plan on pursuing a liberal arts education with a focus in the sciences in college followed by getting a Bachelor of Arts & Sciences degree.
What is your favorite thing about Lenape?
The diversity. I've been exposed to so many different people from the people in my classes to friends I've made through activities such as theater who I wouldn't have met otherwise. There is a niche for everyone to fit into.
What advice would you give underclassmen?
Do your work on time, use all the resources available to you and be involved!
Leave a Comment