Let's Recap: Oscars 2017
This year marked the date of the 89th annual Oscars Awards, held at Dolby Theatre in Hollywood. Our host was Jimmy Kimmel, of the program Jimmy Kimmel Live!, who led us through the ceremony with many jokes and entertaining commentary. Justin Timberlake started the show off with a bang with his amazing live performance of Can't Stop the Feeling. I myself was having fun on my living room couch just watch the smiling faces of the audience and the performers! It was a great moment, experiencing such a lively entrance to the ceremony.
Of course, we can't just leave behind the red carpet highlighted moments of the night. My favorite actress, Octavia Spencer, who played Dorothy Vaughn in the fantastic movie Hidden Figures, was looking fabulous and fluffy in her custom Marchesa dress. She was nominated for, but unfortunately, did not win, the award for Best Supporting Actress. The award went to Viola Davis of the movie Fences. Speaking of fabulous dresses, Emma Stone, winner of the Best Actress award and star of the movie La La Land, strutted her stuff on the red carpet in a flapper-inspired dress of shimmering gold and cream fabric by Givenchy Couture. According to her, the gown took a team of 11 people around 1,700 hours to create! She tells ABC news that the dress is "a tribute to the movie, with the elements of dancing and glamour". Finally, Janelle Monae, star of Moonlight and co-star of Hidden Figures, had the most amazing dress on the red carpet. She wore a stunning Elie Saab black tulle skirt dress with gold and silver decorations. It is hard to put into words exactly how amazing she looked in her regal gown.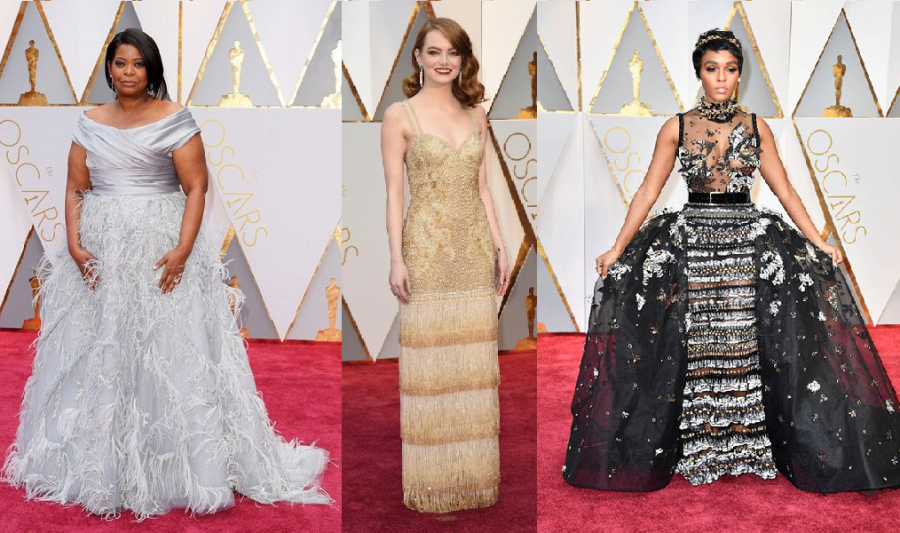 Now, as I am sure many of you have heard, there was a mixup regarding the winner of the Best Picture award. The majority of sources state that the name cards for Best Picture and Best Actress were mixed. The man responsible, Brian Cullinan of the firm PwC, had personally handed the wrong card to Warren Beatty and failed to correct his mistake. Despite the problem being resolved, some people are still debating whether or not La La Land should have retained its win, be it false or not: "La La Land should have won, it just had a better story. I think Moonlight won because it was very political. It won because of what happened last year (no black actors were nominated for awards), so they were more lenient towards it. It was a good movie, don't get me wrong, but La La Land had better meaning" -Nick McAndrew. Debate aside, both movies received immense amounts of praise and all equally deserved, be it for different reasons.
Leave a Comment