80's Themed Zumba is a Blast from the Past
Lenape's Science League hosted an 80's themed Zumba fundraiser in the south gym on Tuesday, April 11th. Many students and Mount Laurel community members came out dressed in neon and leg warmers to take a class from a professional Zumba instructor, all to the tune of their favorite 80's songs. Everyone dressed in 80's attire left with a stuffed microbe – Science League's signature gift and major fundraising item. Many different microbes were available, from kissing disease to the ebola virus. All the students and adults that came out had a fabulous time dancing to the beat of throwback 80's tunes.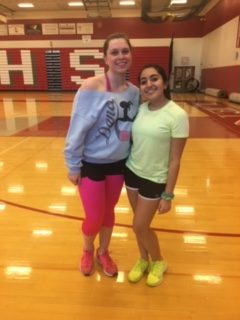 Lenape Science League hosts Zumba events twice a year: glow-in-the-dark Zumba in the fall and 80's themed Zumba in the spring. Every season lots of people come out to have a good time dancing with friends and strangers alike, and the event is something everyone should look out for next year.