A Holiday Apple Spice Pound Cake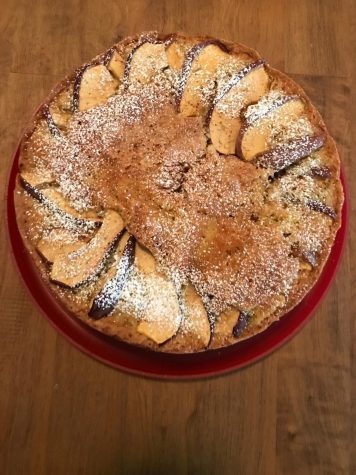 Craving a dessert? The holidays are quickly approaching, and it is important to get the food sorted. Sure, the main course is delicious. However, everyone always saves room for dessert, no matter how full they are. That is why it is important to have a show stopping dessert to wow the dinner guests.
A traditional Apple Spice Pound Cake is the perfect dessert after a delicious, filling meal. It is a light but tasty dessert that is simply amazing! The recipe down below is very easy to follow for beginning bakers.
So get the mixers out and aprons on, it is time to bake!
Ingredients:
1/2 cup of oil

1 cup of flour

1 teaspoon of baking powder

1/4 teaspoon of salt

1/2 teaspoon of baking soda

4 eggs

1 1/2 teaspoon of powdered cinnamon (might need a little extra for apples)

juice from 1/2 of a lime

1 1/2 teaspoon of vanilla essence

2 red apples

1 cup of sugar (might need a little extra for apples)

1 tablespoon of rum
Directions:
Preheat the oven to 350 degrees Fahrenheit.

Peal the apples, and dice them into small, cubed pieces.

Toss the apples with a little but of the cinnamon power and a little bit of sugar. Keep this to the side.

In a large bowl, beat the eggs, sugar, vanilla essence, rum, and lime juice until the liquid is light and fluffy.

In a separate bowl, sift the flour, baking powder, baking soda, salt, and cinnamon powder, and lightly mix them together.

Then, mix the dry ingredients and the wet ingredients together in the original, large bowl. Mix the batter until the mixture is light and smooth.

When smooth, add the apples, and lightly fold them in. Fold well, but do not over fold them into the batter.

Add oil, and mix gently.

Pour the batter into a greased loaf pan.

Bake for about 25-30 minutes. Keep checking on the cake in the oven to see when the top turns golden brown.

Once the cake is finished and golden brown, check the cake to see if it is fully baked. Check the cake by inserting a toothpick or a small knife into the cake. If the utensil comes out clean, the cake is done. If not, return the cake to the oven, and continue baking it while regularly testing it.

Cut the cake into slices, serve, and enjoy!
Leave a Comment