Have a Happy Retirement, Ms. Mitchell!
Ms. Mitchell has been my gym teacher this semester, and although I'm not a particularly sporty person, I have always been able to get involved and have fun in her class. From pickle ball, to golf, to line dancing, Ms. Mitchell has made each sport interesting in its own way. She always encourages her students to put their full effort into each activity, and her attitude is a perfect balance of realism and positivity, motivating her students.
So, naturally, when I found out that Ms. Mitchell would be retiring this year, and not returning to teach after Winter Break, I was shocked. I decided to sit down with Ms. Mitchell and ask her a few questions about her time at Lenape, and what has led up to her retirement.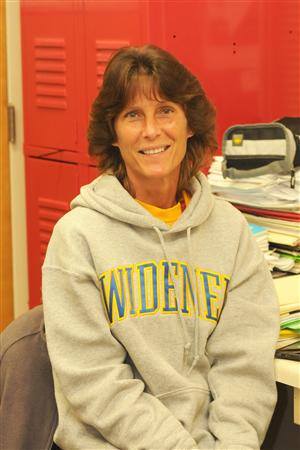 How long have you been teaching here at Lenape, and did you have any other job before teaching here?
"I have not had any other jobs, and I actually attended Lenape when I was in high school. It's like I took four years off — for college — and then I returned! So, although I've taught here at Lenape for 32 years, I've really been here for 36 years."
Your husband, Mr. Mitchell, works here too, and he is also retiring. Did you meet each other at Lenape, or did you know each other prior to working here?
"No, we did not meet here. We actually knew each other in high school, as he went to Cherokee. When I got hired here, I saw that he had already been working here for a year, but I didn't expect that when applying for the job."
Are you excited for retirement, and do you and Mr. Mitchell have any plans?
"Yes, I am excited, but I'm also nervous! I guess retiring is bittersweet. This is the only thing we know, as we have both always worked here. We've stayed through 5 or more principals, changes in administration, and the arrival of new faces each year. We've really been here through it all, and although I'm excited to move on and experience something new, it's sad and nerve racking to think about what comes next.
"We are looking forward to traveling, and simply doing whatever we want, whenever we want: without having to adhere to a schedule. Personally, I don't think it will hit us until it's the new year, when we don't return to work when all of our friends do. I'm definitely going to miss them, because the teachers in my department are like my family. Obviously, however, we are still going to keep in touch, at sports events where they are the coaches, as well as social events."
What will you miss the most about Lenape?
"I'm going to miss the people who I've become friends with over the years, and the comradery of adult communication. I'm going to miss the jokes and the social aspects of the job the most, not the protocol, like submitting grades into Genesis by a certain date at the end of each marking period. I won't miss the routine, but I will miss the people.
"A lot of students have asked me, 'can't you just stay until the end of the year, until we graduate?', but I have to leave at some point, and then that cycle would never end.
"Overall, though, it's been amazing, and I have nothing bad to complain about."
Any last comments?
"I want to wish my classes the best for the rest of the year, and to my senior classes, I want to wish them the best at college and any other future endeavors that will come their way. I wish them the best of luck in the grown up, adult world! Also, remember: Lenape Pride!"
Ms. Mitchell, we wish you the best of luck in all of your future endeavors, too!
View Comments (1)