Men's Olympic Figure Skating RECAP
It's Olympic season! In the world of US figure skating, it has been a wild season!
A month ago, at the United States Figure Skating Association's National Championships, there was great uproar over which male skaters would qualify for the Olympic team.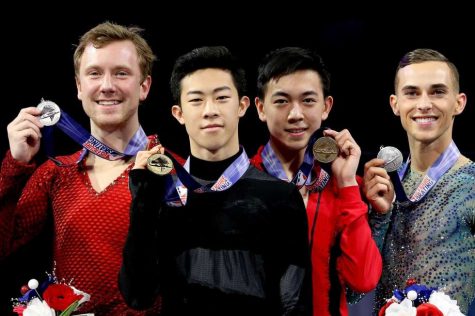 The top three skaters at the US Championships were Nathan Chen (gold medalist), Ross Miner (silver medalist), and Vincent Zhou (bronze medalist).
Three men are chosen to represent the US in the Olympics, and most would assume that the men who finish in the top three at Nationals would earn those spots. That doesn't always hold true. The US Figure Skating Olympic Committee chooses the team, and they can actually skip over those top skaters if they think that a different skater would have a better chance to medal at the Olympics. This usually is the case when a top skater is injured, and misses the National Championships.
Nathan Chen made the Olympic team with ease, as he has exhibited near perfection throughout his career, and he is also a fan favorite.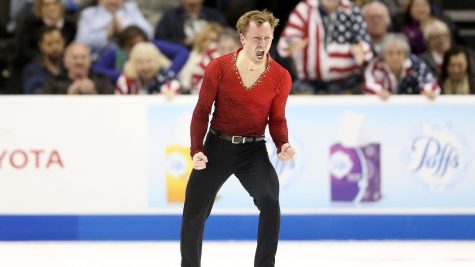 Ross Miner, a silver and bronze medalist at the 2013 and 2011 US Championships respectively, placed silver again this year, however he was skipped over for the Olympic team due to "lack of international experience".  This was not the first time he was bumped off of an international team in his career.
Vincent Zhou, the bronze medalist at the US Championships this year, scoring worse than Miner with a messy long program, was chosen for the team. I believe that he did deserve that position, but not over Ross Miner, who has more experience and more senior level medals in his repertoire.
Miner's replacement was the fourth place skater, Adam Rippon. Rippon has skated consistently well for three years, so his addition to the team was understandable, but he should not have replaced the deserving Miner. Miner was even overlooked for the position of first alternate, surpassed by Jason Brown, who placed sixth.  Figure Skating fans from across the country were outraged by Miner's Olympic placement, and some speculate that he did not make the proper team because his coach refused to pay off the committee.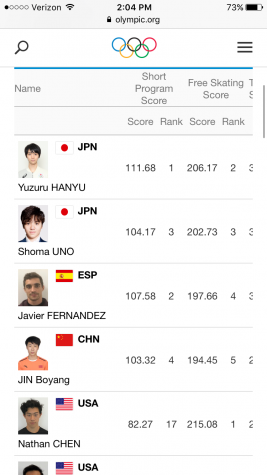 However, after all of the drama at the US Championships this year, none of the men medalled at the Olympics this year in the singles competition.
Nathan Chen –America's best chance at gold — placed 5th, Vincent Zhou placed 6th, and Adam Rippon placed 10th.
Chen had a disastrous short program, making mistakes on all of his jump sequences, scoring about an 82, when the highest score across the board was about a 112. After the short program, he was in 17th place. He had five planned quads in his long program, and in the panic of his low standing, he added a 6th quad.  Five quads was already breaking an Olympic record, so his addition just made him all the more amazing. He scored about 215 on his long program, breaking records again. But, his long program could not make up for his short program, and he still came up short of the podium.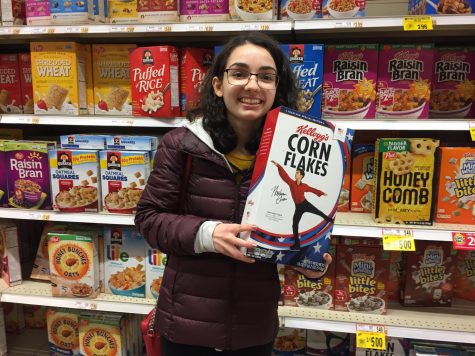 Zhou was in 12th after his short program, and was able to move up in standings to sixth place, also falling short of the podium.
Rippon placed 10th because he removed the quad from his programs in order to ensure two clean skates. He did deliver, and he skated beautifully, but he could not keep up with the top competitors, with his most difficult jump being only a triple axel. During his long program, the crowd was almost completely silent, their full attention captured by his performance.
Watching the American men compete this year was definitely a stressful experience, but each skater was able to perform programs that they could be proud of, and that their fans could be proud of, too.
Stay tuned for the ladies' Olympic figure skating recap, due out on Friday, February 23rd!
View Comments (1)