2021 Academic Awards
A couple of weeks ago, Lenape hosted its annual Academic Awards ceremony to celebrate individuals who specialize in certain subjects. The celebration is for a selected group of students from each grade level, with seniors having the largest group of award receivers.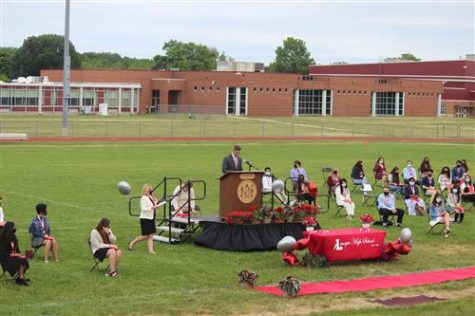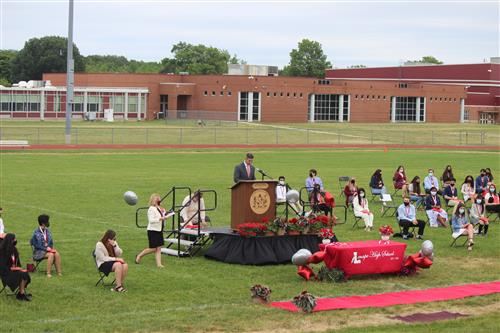 In each grade, one student per subject is selected to receive an award by teacher nomination. The subjects range from standards, like Math and English, to electives, such as business and technology. The same applied to the seniors, plus a little extra; not only were subject award recipients invited, but all seniors in the top 10% were also recognized.
After last year's Academic Awards were held virtually, people wondered if this year's ceremony would be held in person. The answer was: yes! But, there were a few changes. This year's ceremony was held outside to allow for social distancing, only those receiving awards plus two guests were able to attend, and everyone who attended was required to wear a mask except when speaking at the podium. 
As each student walked up to receive their award, their name, award, and other accomplishments were announced. Freshmen students were the first to receive their awards, and seniors were last (but not least).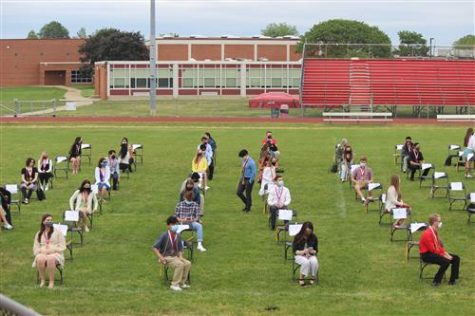 Right before the end of the ceremony, all of the senior students walked up to the podium to announce what college they were going to next year, what major they plan on studying, and their estimated graduation year. It was very exciting to hear the variety of places these Lenape students were heading.
For the Academic Awards, Lenape staff took out the red carpet so award recipients could feel more glamorous. But, the night of the event was a little windy, causing the red carpet to flow with the wind, inducing a tripping hazard. But, no need to fear, because Mr. Cattani came to the rescue! As every recipient walked down the red carpet, Mr. Cattani said something along the lines of "Congratulations!" and "Careful, don't trip". Thanks, Mr. C.
I would like to offer all students who received an award my congratulations. Your hard work and determination paid off! And, if you didn't get a chance to watch the ceremony, there's no need to worry! You can watch the 2021 Academic Awards using this link. 
Leave a Comment