Isaac's Birthday Paw-ty
Last week, Lenape High School celebrated the birthday of its beloved therapy dog, Isaac! This very happy golden boy turned 10 years old, which is about 66 in human years. To celebrate this milestone, Mrs. Wolf and Mrs. Conte, from the Wellness Center, threw Isaac his very own paw-ty.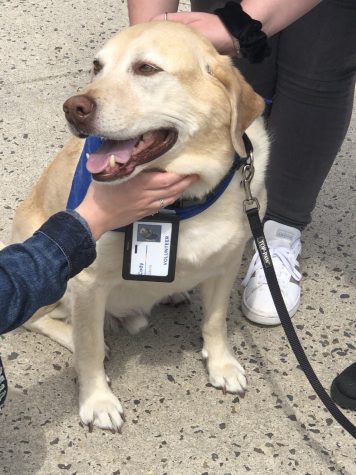 On June 2nd, all Lenape students and staff were invited to the courtyard to relax, play lawn games, eat cake, listen to dog-themed songs (my favorite was "Who Let the Dogs Out"), and hang out with friends.
Not only did Isaac's human friends attend the party, but his puppy pals also made guest appearances! Multiple of Isaac's doggy friends, from doodles to goldens, tiny and large, came to enjoy the fresh air and pets from students.
Of course, no birthday party is complete without that special song. My favorite part was when everyone gathered around to sing Isaac "Happy Birthday". Isaac was very happy, basking in his glory, while everyone sang to him and he even walked up to students for bonus birthday pats. And, of course, after a birthday song comes birthday cake… for the students, at least. The cake was not dog-friendly, so Isaac was given a treat instead. On the bright side, he seemed to think it was a fair trade. 
Video taken by Liz Campbell
The point of this birthday party was not just to celebrate our favorite four-legged pal, but it was also to give students and staff a chance to relax and be in a stress-free zone. I had a challenging biology test a few periods before Isaac's birthday party and I couldn't stop thinking about it. But, as soon as I arrived at the party, I completely forgot about the test. All I could do was attempt to pet as many dogs as possible (I ended up petting all but one). 
Many of us don't know a lot about Isaac, besides that he's a very good, comforting, and cute therapy dog. So, I'm very happy that I got the chance to ask Mrs. Wolf and Mrs. Conte a few questions about Isaac and his friends!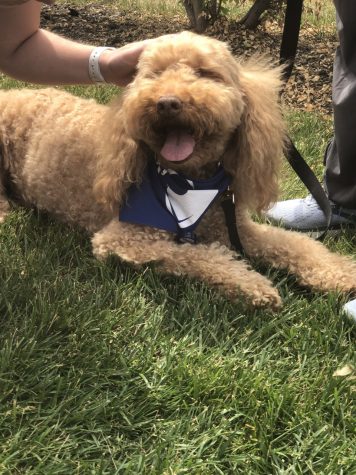 Isaac is a certified therapy dog through the Alliance of Therapy Dogs. In case you've ever wondered where he comes from, he's a member of Virtua's Visiting Paws program, and so are his fellow dog friends that attended the party. 
When Isaac arrives at Lenape, his handler brings him to the Wellness Center. If he isn't in the Wellness Center, chances are he's walking around the building to say hi to students, which he does sometimes. Between classes, you can find him in the hallway outside the Media Center. Every Monday, you can find Isaac in the Wellness Center (or strolling around Lenape) from around 9 am until dismissal. But, since the end of the school year is approaching, this Monday, June 14, will be Isaac's last day at Lenape before the summer break.
In the Wellness Center, you can often find Isaac laying on his blanket, asking to be pet and eager for belly rubs, and if you're lucky, he may fall asleep in your lap. Mrs. Wolf and Mrs. Conte say that "The act of petting him and just sitting with Isaac has many benefits such as mindfulness, stress reduction, and peace, all of which are great therapeutic techniques," and I couldn't agree more.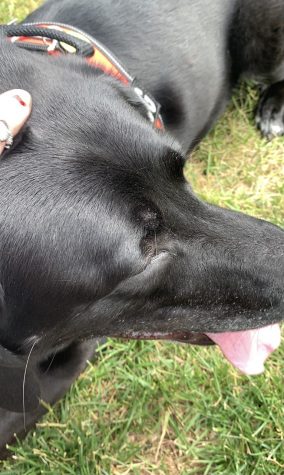 As Lenape's upperclassmen may know, this is the first year therapy dogs have been brought to Lenape. Mrs. Wolf and Mrs. Conte say that pet therapy has many benefits to help improve mental health, such as an "increase in self-esteem, better communication skills, and overall comfort and companionship," and that, especially this year, they wanted a therapy dog for the Wellness Center to help connect with students and make them feel safe. 
Contrary to popular belief, not all dogs make great therapy dogs, which is why we should be very grateful to have Isaac. Mrs. Wolf and Mrs. Conte say that "Isaac has an amazing disposition, temper, and personality, which makes him a great therapy dog. You will notice that Isaac can be very calming."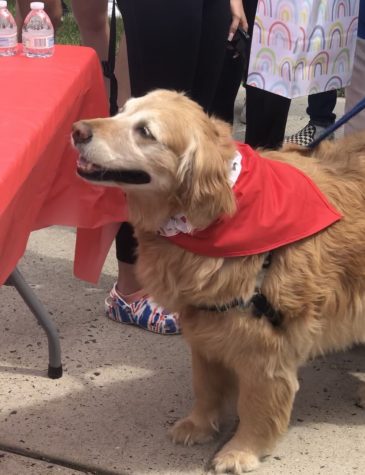 The question of the week is whether or not we will be seeing therapy dogs at Lenape in the future. The answer to that is, "Yes!!!! We will be continuing our therapy dog program at Lenape and hope to welcome Isaac and/or some of his friends back next school year."
Although Isaac will only be making one more visit to Lenape before summer break, the Wellness Center is still open. The center has a very calming environment and games to play with. If you find yourself with free time, consider stopping by (ask your teacher first)!
I wanted to give a big thank you to Mrs. Wolf and Mrs. Conte, who provided me with most of the information mentioned in this article. They are responsible for maintaining the welcoming environment of the Wellness Center, and putting a great deal of work and love into the Wellness Center and its events, like Wellness Day and Isaac's Birthday Party. You can find Mrs. Wolf and Mrs. Conte in the Wellness Center, as well as on Instagram (@lenapewellness).
View Comments (2)