Season's Readings: Competition & Book Recs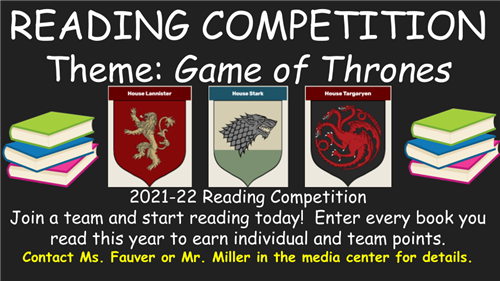 Have you read a book since the start of the school year? Whether it was for class or your own enjoyment, I'm guessing you have. If my theory is correct, then you are eligible for Lenape's Reading Competition!
Enrolling in the reading competition is as easy as spelling your name. Any student or staff member can join at any time by filling out this Google Form. The form asks you to select a team, and after selecting, you're done! You are officially enrolled in the reading competition. 
This year's theme is Game of Thrones. Sticking with this theme, the three teams you can choose from are: House Lannister, House Stark, and House Targaryen. As I know absolutely nothing about Game of Thrones, I chose what team I wanted to be on by randomly pointing… I am now a proud member of House Stark.
Now that you've enrolled, all there's left to do is read books. Every time you finish a book, fill out this Google Form. Each time you enter a book, you earn individual and team points. After the competition ends (June 10, 2022), the individuals and teams with the most points will be announced. 
Even if you have just now signed up for the reading competition, you can enter all books you've read since the beginning of this school year. All books read this school year count!
To help you on your reading journey, here are some book suggestions (my favorite books!):
The Inheritance Games 
Truth be told, I picked this book because the main character's name is a replica of my own. I would never suggest this as a good book choosing technique, but I'm very lucky it worked for me.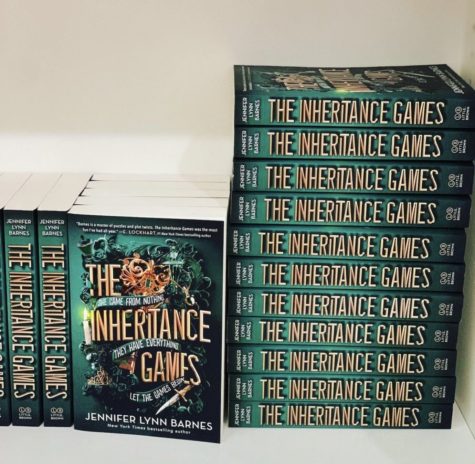 This is the first book in the Inheritance Games Trilogy, and is described as "a Cinderella story with deadly stakes and thrilling twists". This trilogy follows Avery Grambs, a high school student who lives with her older sister and is trying to lay low while graduating from high school, winning a scholarship, and going to college. However, this all changes when a billionaire whom Avery has never heard of, Tobias Hawthorne, passes away and leaves her almost his entire fortune. The only catch is that in order to claim her inheritance, Avery must live in the Hawthorne House for at least one year… which means living with Tobias' relatives, who are angry at Avery for "stealing" their inheritance. Luckily, Avery has Tobias' four grandsons to guide her on this exciting adventure: Nash, Grayson, Jameson, and Xander. While living at the Hawthorne House, Avery and the grandsons go on a mission to find out why Tobias has left Avery his fortune, and along the way, friendships and romances form, hearts are broken, and lives are risked. Will Avery survive the one year without breaking mentally or physically? You'll have to read to find out.
I would highly recommend this book. It captivated me so much that I finished reading it within two days, and read the second book, Hawthorne Legacy, the same day it came out. Sadly, the final book will not come out until this summer, but you can bet your life savings that I will be reading it the instant it reaches the shelves. 
Eragon
This is the first book in the Inheritance Cycle, and it follows Eragon, a poor farm boy. Eragon finds a "blue stone" in the forest while hunting, and decides to take it home. What he soon realizes (a little too late), is that the stone is actually a dragon egg. After the dragon hatches, Eragon's life is constantly in danger by association, and whether he likes it or not, he now has to learn how to fight, control his magic, and save the empire ruled by the evilest king I've ever heard of.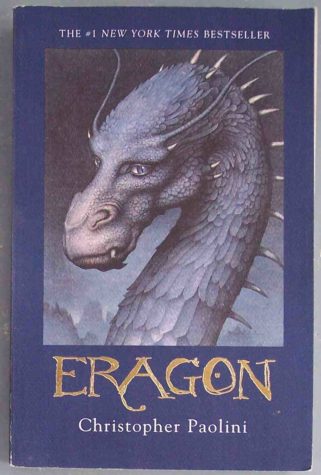 I kid you not, this is one of the most emotional series I have ever read. While it doesn't sound very emotional, it is. The author is truly talented and manages to craft a whole new world for readers to escape to. I found myself crying and laughing with the characters and constantly on the edge of my seat. This book shows Eragon's struggles with romance (for you non-romance lovers: there's very little romance), friends, family, and having to deal with his new responsibility… after all, he's only a teenager, and now is literally the only hope the empire has. 
I feel that this series is something all people should read at least once in their lives. Within the first thirty pages, I was already crying, and within the first 200, I was balling my eyes out (this makes it sound bad but the rest makes up for it). I cannot even begin to describe how empty I felt after finishing this series, but that's only because I became so attached to it.
The Selection
This is another book I chose with the wrong-reading technique: I decided it was meant to be after I found out the book was published on my birthday. After years of my friend begging me to read it, I finally gave in and couldn't believe I didn't read it sooner. This is the first book in the Selection series, and it's basically a magical and royal version of The Bachelor. In this book, thirty-five commoners are brought to the palace where they get to live and compete for the heart of the country's future king, Prince Maxon. One of the "selected" is America Singer.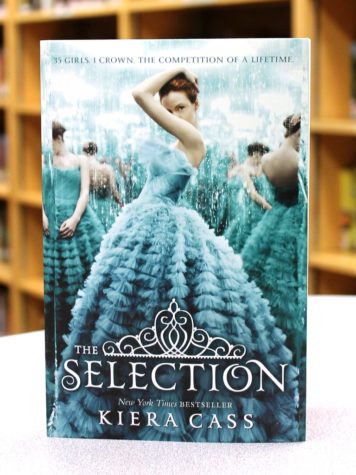 While most girls would sell their little brother for a chance to compete, America wants nothing to do with this competition. She is already in love with her boyfriend and doesn't think highly of Prince Maxon. But, as her family really needs the money the "selected" are given, she agrees to stay a few weeks in the competition. But, as time goes on, she has a change of heart and realizes she might want to stay for more than just money (and the reason is certainly not the rebels who are constantly trying to break into the palace and kill the monarchy and "selected"). Will America fall for the prince? And if she does, will it be too late? 
I promise, even though this book sounds like a chick-flick, it is not. America, while she sometimes makes foolish decisions, is the definition of girl power. This book isn't just a romance, but it's also about betrayals and friendship. I am not ashamed to say that I finished this whole series, 5 books, in less than two weeks. 
Don't forget: winter break is less than a week away! I, for one, think it's the perfect time to snuggle on the couch, wear a cozy blanket, sip some hot chocolate, and read a book (bonus points if it's one that I recommend)! Don't forget to join the reading competition, and enjoy your reading adventures!
Leave a Comment