Lenape Girls Invitational 2022
This past Saturday, April 9th, the Lenape Girls Track Team hosted their annual Lenape Invitational meet where a total of 33 other high school track teams in New Jersey were invited to compete. However, since many of Lenape's seniors are at Disney for their Senior Trip, the underclassmen of the track team had to take the lead, and they did not disappoint. The events our team participated in were the 400m intermediate hurdles, 4 x 800m novice relay, 4 x 100m varsity and novice relays, 100m dash, 400m dash, 100 high hurdles, 200m dash, 4 x 400m novice relay, and the 4 x 100 Throwers relay. Our girls did an amazing job at this meet, so let's highlight some of the events from that day.
Starting at the beginning of the meet was the 400m intermediate hurdles, with Jackie Swann and Brooke McMonagle representing Lenape. Running the 400 (one lap around the track) is already a difficult task, and hurdles do not make it any easier. However, Swann and McMonagle have run hurdle races before and made the intermediate hurdles look easy.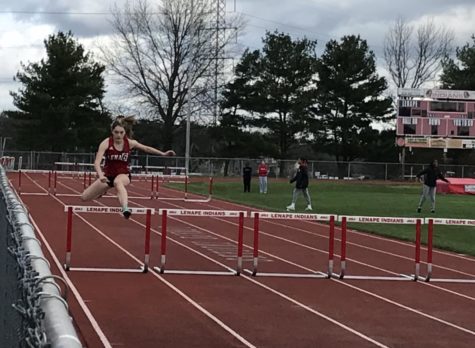 I participated in the 4 x 800m novice relay with teammates Syndey Depativo, Katie Gallego, and Alyson Goldbacher. In this race, each relay member runs two laps around the track before passing the baton on to the next team member. Our relay team was competing against 13 other teams, and in an exciting race to the end, our 4 x 8 placed 2nd with a time of 11:58.83!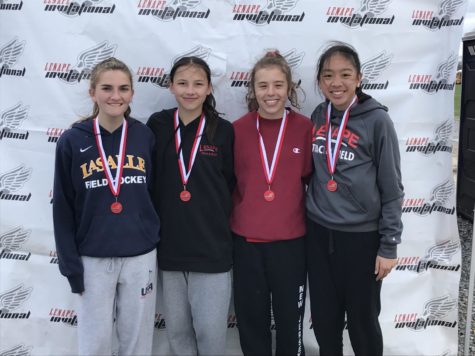 In the 400m race, Kasey Thomas (heat 3), Samantha Rosado (heat 4), and Isabella Bordon (heat 8) had speedy finishes in their one-lap event. Rosado came 1st in her heat with a time of 1:06.61.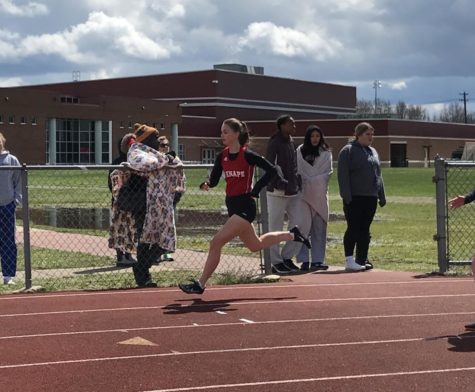 The 4x400m novice relay was run by Brooke McMonagle, Kasey Thomas, Mariah Berry, and Nyla Hannah. With a time a 4:46.96, their relay team placed 3rd out of 9 schools!
And finally, the featured event that spectators were waiting for: the 4x100m Throwers relay. A relay team consists of four throwers (those who usually participate in throwing events such as shot put, discus, etc.) who each must run 100m of the track and pass the baton to their next teammate. Since throwers do not normally race, it is an exciting event for both the participants and viewers. Lenape's team was represented by Natalie Swann, Aniyah Henley, Maya Morton, and Julisse O'Neill, and they finished with a time of 1:04.94.
Overall, the Lenape Girls Track Team did an outstanding job at this meet, and they have a bright future ahead for meets to come. Congratulations to everyone who competed!
View Comments (1)