Pumpkin Treats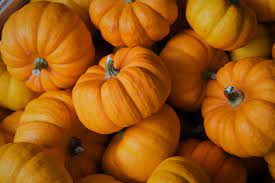 Fall is here, and it is officially pumpkin season! If you're like me, you love everything and anything pumpkin. Here are ten treats to make this a fall that will incorporate pumpkin:
1. Pumpkin Cheesecake: Pumpkin cheesecake pulls an extra twist on the classic cheesecake. Reasonably quick, this recipe should be a huge hit!
https://natashaskitchen.com/pumpkin-cheesecake-recipe/
2. Pumpkin Cake Pops: These cute cake pops will wow anybody. These are perfect for any gatherings or fall parties. 
https://preppykitchen.com/pumpkin-cake-pops/
3. Pumpkin Muffins: This recipe features a nice streusel to go on top of the muffins. 
https://sugarspunrun.com/pumpkin-muffins/#recipe
4. Mini Pumpkin Pie Tarts: Perfect for sharing, these mini pumpkin pies will be cute and delicious. Top them off with either whipped cream or cool whip for a great add-on!
https://sallysbakingaddiction.com/mini-pumpkin-pies/
5. Pumpkin Trifle: A tasty and pretty treat, this pumpkin trifle is a show-stopping dessert.
https://www.favfamilyrecipes.com/pumpkin-cheesecake-trifle/
6. Pumpkin Brownies: Warm brownies, fresh out of the oven, are unmatched. Add in pumpkin, and it is the perfect fall treat. 
https://lilluna.com/pumpkin-brownies/
7. Pumpkin Dip: Dips are very versatile. Eat this delectable pumpkin dip with pumpkin tortilla chips from Trader Joe's, graham crackers, or whatever else!
https://chocolatecoveredkatie.com/pumpkin-dip-recipe/
https://www.amazon.com/Trader-Joes-Pumpkin-Tortilla-Gluten/dp/B0168YYZD4
8. Pumpkin Bars: Pumpkin and cream cheese are the best duo. Enjoy this quick and easy dessert. 
https://preppykitchen.com/pumpkin-bars/
9. Chocolate Pumpkin Cake: Paired with pumpkin whipped cream and chocolate ganache, this cake will be delicious.
https://iambaker.net/chocolate-pumpkin-cake/
10. Pumpkin Cinnamon Rolls: Cinnamon rolls are a staple baked good. Try this recipe to add extra flair!
https://www.ambitiouskitchen.com/best-pumpkin-cinnamon-rolls/
Leave a Comment