Girls Tennis Team Recap
As the Lenape Girls Tennis Season comes to a close, it is definitely worth mentioning the tremendous waves this team has made in our school's tennis history. This past Sunday, the top seven players of the Girls Tennis Team were honored at the South Jersey Banquet, as well as the school's banquet, for being this year's Group IV Sectional Champions team which is no small feat, as this achievement hasn't been accomplished since 2014. Lenape faced off against Cherry Hill East in the sectional finals, securing a 4-1 win against the Cougars.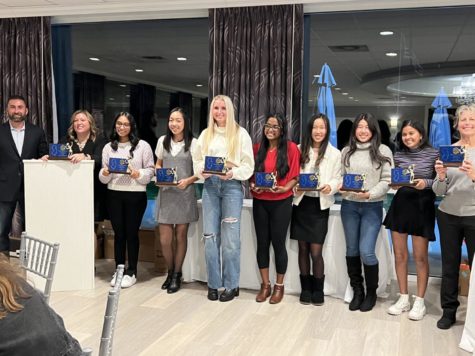 In addition, at the SJ Banquet, the entire team received Group IV All Star Awards, and seniors Rhea Sethi and Kaitlyn King were recognized with Captain Awards. Captain Rhea Sethi also received a Career Achievement Award for playing in varsity for all four years.
More achievements of the team (which were mentioned at the school's own banquet) were having a 2nd singles semi-finalist in the All South Jersey Tournament in October, as well as a Burlington County Open 2nd and 3rd singles champion and finalist, respectively.
Overall, the Lenape Girls Tennis Team had an amazing 12-4 season and made strides that the team hasn't achieved in years. All the girls played extremely well, giving hope for even brighter seasons to come!
Leave a Comment