Bubblelicious Lab Review
Over the weekend, I went to try a new bubble tea place in Cherry Hill called Bubblelicious Lab. A friend of mine had given me a gift certificate, so I finally got the chance to use it. If you've never had it, bubble tea is a drink with chewy tapioca pearls at the bottom. At Bubblelicious Lab, you can customize your own bubble tea, which is a unique experience.
When I arrived, the store was adorably decorated, and they had a "lab" set up where you could create your own bubble tea. First, customers would take a tray and select different syringes to indicate their drink choice. I chose to get an iced strawberry taro bubble tea with 35% sugar. I liked that you could choose your own flavors and decide the sugar level. It was also cool that they had different boba options, like the normal tapioca ones, but also the popping bubbles that are common at frozen yogurt shops. Or, if customers don't want any boba, they could get a drink without any. They had such a wide variety of options, it was almost impossible to decide.
The service was nice, and I really enjoyed my drink. I would definitely recommend trying the bubble tea here. Not to mention, customers can order on Grubhub as well, if they'd like their bubble tea delivered. They're at 2110 Marlton Pike East, Rte 70 W, Cherry Hill, NJ. I'd go check it out!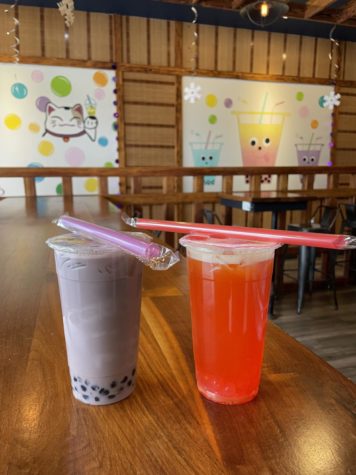 Leave a Comment