March Wrap Up
March was certainly madness at Lenape! With the spring musical, Mr. Lenape, People's Choice Awards, and 100 days left for seniors, this month was a whirlwind of fun.
Mr. Lenape
Held on March 16th, the Class of 2023's Mr. Lenape show did not disappoint! Like always, the show started with each month and their escorts running through the audience, busting a quick move, and throwing candy or flower petals to audience members. 
After quick introductions, each month performed their two-minute dance routine to different genres of music. The performances were all spectacular and hilarious! You could tell that a lot of thought and practice went into each skit. The dances were very creative, ranging from the use of glitter guns, to gymnastics, and even to a recreation of a famous Jack and Rose scene from Titanic.
After the skits, each month came out with their respective escort and answered a random question. Some questions were light, such as "Who inspires you the most?" while others were deep, including "What is wrong with our education system?". 
Finally, after the question and answer session, guests placed their votes by walking up to the stage and putting their tickets in the basket of the month they wished to vote for. This part was a little bit awkward because everyone from the skits was on the stage, encouraging you to vote for their group!
At the end of the night, Mr. April, Dylan Shugar, was crowned Mr. Lenape! While Dylan took home the crown, all of the performers should be proud of their hard work because it definitely paid off! Not to be cheesy, but in my book, all of the months won Mr. Lenape.
Spring Musical
This year's spring musical, The Little Mermaid, was another success! From the beautiful scenery and costumes to the magnificent acting, this is one of the best musicals I have ever seen.
The musical closely followed the original movie, but with a few additions, such as a fight between Sebastian (the lobster) and a chef who was attempting to cook him. However, I really enjoyed the extra scenes – I liked their recreation more than the original movie!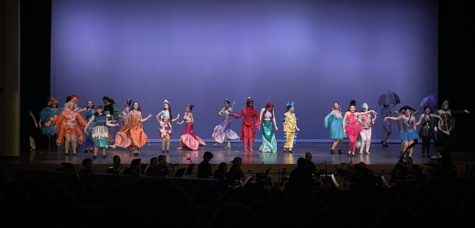 Personally, I cannot pick a favorite scene because they were all amazing. However, my top scenes were the ones involving the whole cast because I felt those scenes had the most energy… not to mention the vivid colors!
Lastly, I have to highlight the singing abilities of the cast. Their voices were absolutely incredible, so much so that I felt like I was watching a Broadway musical. The dancing was also equally beautiful!
People's Choice Awards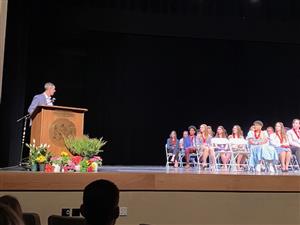 On Thursday, March 23rd, Lenape held its annual People's Choice Awards, a ceremony where teachers recognize students who show strong character or possess other qualities they feel deserve recognition. 
At the ceremony, teachers shared short speeches about the student they nominated, and their words were so moving! While it was a two-hour-long ceremony, I never once got tired of hearing stories about these deserving people. 
100 Days Left of School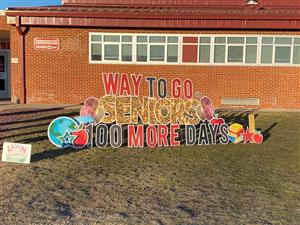 A couple of weeks ago, Lenape celebrated 100 days left of high school (including off-days) for their seniors! There were balloons, big signs outside of the school, confetti, and even presents! When seniors walked in, there were teachers wearing graduation gowns waiting to congratulate them, and lovely posters hanging up. There was even a picture-taking place by the South Gym!
March was truly an exciting month at Lenape! I'm excited to see what April brings; so far, the seniors have had a fun couple of days at Disney, but what else will come with the April showers? 
Leave a Comment