Taylor Swift Eras Tour
Starting on March 17, Taylor Swift started her "Eras Tour." This tour is the first of her tours since before the COVID-19 pandemic. Since the pandemic, Taylor Swift has released three new albums and re-released another two. So instead of the normal, one-album tour, she is singing songs from her different "Eras."
Of course, there has already been controversy surrounding tickets, specifically Ticketmaster, and how tour tickets were managed. But already, Taylor Swift has performed in three different locations, and her tour has started out with a bang. The setlist is a whopping 45 songs long and Taylor has been performing for nearly three and a half hours per show, and this isn't counting the openers.
I was fortunate to be able to attend the show in Philadelphia this past Sunday at the Lincoln Financial Field. It was the third night that she was there, and all three shows were completely sold out. We arrived around three, and the gates opened at four-thirty. If you're going to see a Taylor Swift concert, I would recommend knowing where you want to go first. For example, we headed straight for the merch line upstairs, and it was less crowded.
The openers, Gracie Abrams and Phoebe Bridgers, went on a little before six-thirty, and then Taylor started around eight. It was impressive. Swift sang for three and a half hours without an intermission. The transitions between each song were flawless, and the crowd thoroughly enjoyed every minute. Somehow, she seemed to gain energy from performing rather than lose it.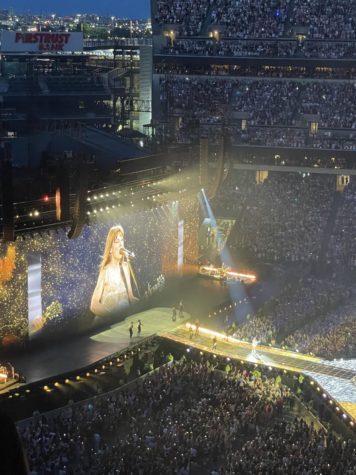 There was something about the crowd that made the concert better. Everyone was singing and dancing along, myself included, and it made the experience even more enjoyable. Even the people that worked at the stadium were extremely friendly. They gave the best advice and willingly chatted with everyone nearby.
Not to mention, the stage was spectacular. There were multiple moving platforms, and different props would emerge from the stage. There were always cameras on Taylor, so even though I was sitting high up, I could always see what was going on. Also, each person was given a bracelet that would light up throughout the different songs and the stadium would glow in different colors, which added to the aesthetic. At one point, during the Lover set, certain bra
celets turned pink and formed hearts throughout the stadium.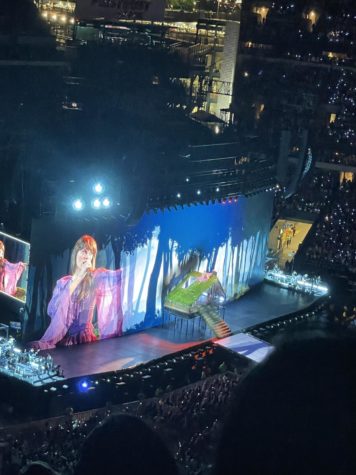 At every concert, Taylor sings two surprise songs. At the show this past Sunday, she sang "Hey Stephen," and "The Best Day," which is a song dedicated to her mom. It was perfect for Mother's Day, and everyone loved it. 
There was even a huge crowd outside of the stadium of people who were unable to purchase tickets. Instead, they sat outside to just listen to Swift sing. It was incredible that her fanbase is so large that there weren't enough seats in a football stadium to fit everyone. So even on a Sunday night, there was a plethora of people excited to listen from outside of the stadium. 
It was a night I'll never forget, and it still feels like a blur. 
Leave a Comment