Tribute to Mary Jane: The Heart and Soul of Lenape
Mary Jane Mullen was the essence of sunshine, happiness, warm hugs, and love. If you ask anyone at Lenape to describe her, the immediate word that comes to our minds is love. Our dearest Mary Jane taught us what love is, engulfed us with it, then taught us how to love. Through the past 61 years, she has breathed life into Lenape and touched the souls of each and every one of us, whether directly or indirectly.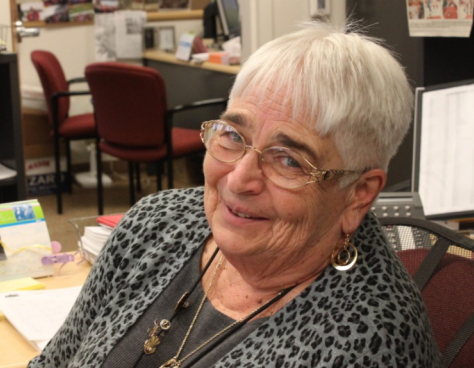 Mary Jane has always been a staple at Lenape. When she first enrolled in Lenape her sophomore year as part of the class of '61, she had no idea the mark she would leave on Lenape or how much she would brand herself into our lives.
After graduating from Lenape in 1961, MJ returned just weeks later as a secretary – which she always wanted to be – and thankfully never left. Every day, she showered the school with positivity and kindness, spreading the endless love her heart contained for Lenape.
In an interview for a Smoke Signal article celebrating her 50 years at Lenape, MJ said "My favorite part is just being involved, [with] the kids. I see how much I love and care about them. That is why I am here every day. I treat them with respect and they treat me with respect. And that is the way it should be."
Of course, not only was MJ known for her overwhelming love and kindness, but she was also always able to crack a joke. When asked about her senior year prom date, she said "My prom date? Oh yeah, I remember him. I married him." 
Mary Jane loved Lenape and Lenape adores her right back. One of these admirers includes Mrs. Lana Jones, a family and consumer science teacher and beloved friend of MJ. Mrs. Jones met MJ in 2007 when she first came to Lenape as a substitute teacher. Upon meeting MJ, Mrs. Jones says that "She was very friendly, just overly friendly, and I was shocked that someone was so nice when I first got there. I was very encouraged and just glad that I chose to work at Lenape."
Mrs. Jones says that MJ was an "inherently [kind] person, no matter what," and that she "had this really, really infectious laugh…She was just one of a kind. Very unique. There's not a particular person that's like her, anywhere. Not that I've met in my previous 50 years." Mrs. Jones also describes MJ as "perfection. Perfect love. She was perfect love. In every form."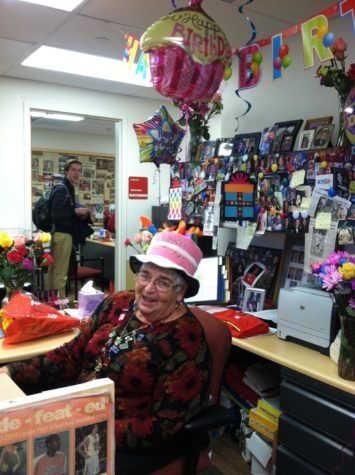 If you knew Mary Jane, then you know about her famous candy drawer, which she kept stocked up with treats that she always shared; she even had a backup stash in case she ran out. In a Smoke Signal interview celebrating her 70th birthday, MJ said "My favorite thing to do is seeing the kids, giving out candy, and helping people out." 
Mrs. Jones is one of the many people that had an experience with the candy drawer. Mrs. Jones loves Mr. Goodbars, but since they contain nuts, they are not allowed to be given out at school. MJ knew of Mrs. Jones' love for this nutty candy, so she used to buy variety bags and save the Mr. Goodbars for Mrs. Jones. Even through something as simple as candy, MJ was still able to touch hearts. 
Another close friend of Mary Jane is Mr. Steve Walker, one of Lenape's security members. Mr. Walker met MJ when he first started here, five years ago. He says that when they met, "she goes 'me and you are going to be friends… I just got a good feeling about that.' And we just hit it off, and we've been friends ever since."
Mr. Walker has an abundance of favorite memories with Mary Jane, having spent so much time with her over the past five years. But, the one that sticks out to him the most is when MJ was at the hospital. He shares that "In the worst time of her life, after getting in the car accident, having five surgeries, she's still loving people. That was her heart. She was pure love. Her heart. She loved everyone she came in contact with. And they loved her."
Mr. Walker showed me videos of him and MJ from the hospital, and they expressed how MJ is truly the definition of love. Even after so many surgeries, she was still so positive, cracking jokes, and sharing her love with us all. Sitting in her hospital bed, she said to her dear Lenape staff and students, "I miss hugging and kissing you all… I love you all very much."
Mary Jane shared her abundance of love with all people. Mr. Walker says "She loved everyone. Even the people that, some people in the past maybe have done wrong to her, she still loved them too, prayed for them, too. She didn't have a mean bone in her body."
Similar to others' thoughts about MJ, Mr. Walker says that MJ was "Pure love. Heart of gold. She's like somebody I've never met in my life before." And, when I asked if MJ was one of his favorite parts of Lenape, he replied "Oh, absolutely. She was Lenape."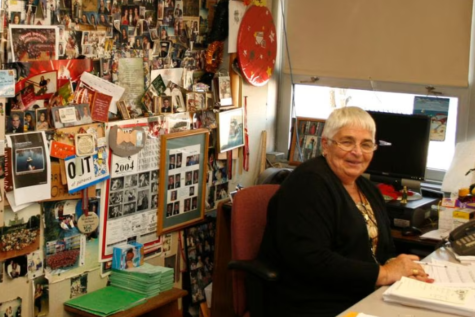 Mary Jane was the best part of so many people's days, even years; one of these individuals is Mr. Spitz, a previous Lenape math teacher. In a 2017 retirement article for Mr. Spitz, the Smoke Signal interviewed him and asked what his favorite overall memory from Lenape was, to which he responded, "How nice Mary Jane is and all the great people I have known."
Mary Jane has loved so many people throughout her years at Lenape, and this shines through the comments left on the GoFundMe for Mary Jane:
"Some things never end, like the memory and legacy of a life that meant so much to so many people!" – Megan Madorno Lorence, Class of '87
"Mary Jane is [an] angel now and always has been." – Susan Burns
"Mary Jane was my maid of honor in my wedding. During my senior year I worked in the office during my lunch hour with Mary Jane. I was hired as a secretary after my senior year for the north building and enjoyed working with Mary Jane." – Janette Barrett
"MJ = the heart and soul of Lenape High School." – Leigh Bakun Milander
"I ate lunch with this great lady everyday in her office for several years and got a big kiss and hug everyday! Made a lot of our lives better, time to do it for her!!" – Joanna Kaufman, Class of '90 
"Mary Jane was the light of my high school experience. The most sweetest & real human being I've ever met" – Marissa Mills
"To know her is to love her" – Rachel Silver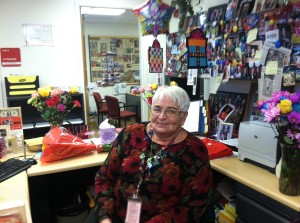 Mary Jane, thank you for everything you have done for us these past 61 years. Thank you for touching our lives, for your devotion and affection; thank you for being the heart of Lenape. We are so wonderfully blessed to have met an angel as sweet and beautiful as you, and we will forever cherish your never-ending love, constant positivity, genuine kindness, and the infinite amount of memories made. We love you immensely, Mary Jane Mullen.
As Mary Jane would say, "absolutely positively". 
View Comments (6)