Chemistry Is A Blast At Lenape: National Chemistry Week Recap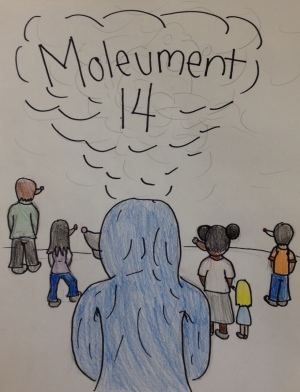 "What do you call a tooth in a glass of water? A one molar solution!" declares one poster in E-Hall. This and other tidbits of science humor posted around the school were just a part of Lenape's annual celebration of National Chemistry Week. The event was coordinated by the school's Chemistry Club, which is sponsored by the American Chemical Society. With the addition of new contests and the improvement of old favorites, Chem Club made this year's Chemistry Week the best one yet.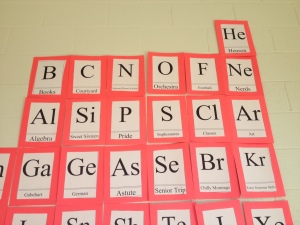 Not only did the Chem Club tack up punny posters, but it also created a gigantic Lenape periodic table, with each chemical symbol being repurposed for a school-related term. 'K' stands for 'Knowledge' instead of the established Potassium, and Lenape science teacher Mr. 'Henson' takes the place of Helium for 'H'.
"The humor the Chemistry Club infuses with the science itself can make the bond between chemistry and a student as strong that of an ionic salt," quips Nate Yezril, senior officer of Chem Club.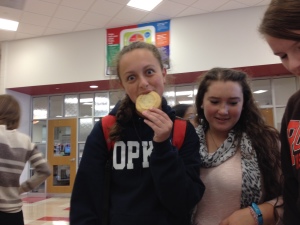 The celebrations came with incentives, as the One Mole One School event on Mole Day (October 23rd) kicked off. The student body was encouraged to approach Chem Club members who wore goggles and aprons. The Chem Club members would then ask them a simple chemistry question, such as 'What does the chemical symbol He stand for?' Once the student correctly answered the question, they could enter their name into a raffle for a Wawa gift card. The winners of the event were drawn at the Mole Day party after school on the 23rd. This kind of event encourages students to know their chemistry!
"I do think that the events the Chemistry club does for National Chemistry Week raises awareness because they involve students from outside the club who haven't had the chance to appreciate chemistry yet," says Nate Yezril. "Anyone can laugh at the mole puns that have been put up around the school or admire the periodic table of Lenape, not just chemists."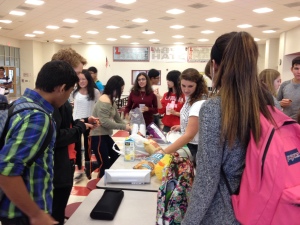 Throughout the entire week ran the Chemical Power Shower Challenge. Students were once again given an incentive—this time, it was the chance to see the winning science teacher doused under a chemical shower. Whichever participating science teacher collected the most money in their donation beaker, would win the contest. In the end, Mr. Giberson was the one to stand under his chemical shower in a swimsuit and floaties, live on Lenape Live. All of the collected money was donated to the Children's Hospital of Philadelphia.
Thanks to Chemistry Club, National Chemistry Week was a rousing success at Lenape. There is no doubt that the event will be just as amazing next year, if not better.
Leave a Comment